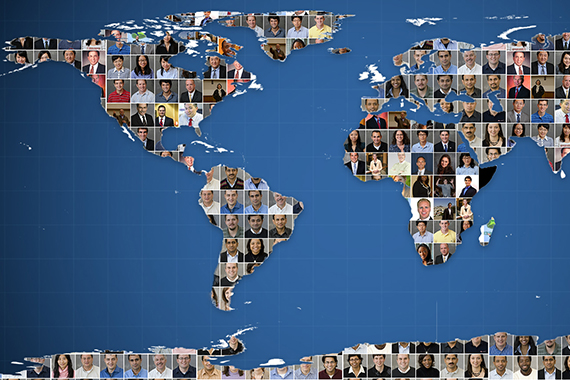 Join the Krannert Network today to keep up with the school and your classmates!
Class Notes
Alumni news and announcements
Spring 2017

Purdue University
1960s
JOHN WILSON (MS '62), a member of the physics faculty at Sam Houston State University, recently authored a book, A Physicist Examines Hope in the Resurrection. In addition to teaching and writing, Wilson is a retired deacon of the United Methodist Church.
BARRY FARBER (BS '65), Gulfport, FL, received an honorary doctorate of humane letters from the University of Maine at Augusta (UMA) in May. He spent 25 years as a professor of business at UMA and was awarded the title professor emeritus of business for his important academic contributions.
GARY CROWDEN (BS '69), Southport, NC, was named Adjutant of the Year by the American Legion Department of North Carolina, of which he has been a member for over 14 years. More than 300 posts throughout the state nominate a candidate for the award.
1970s
GARRY KIRKBRIDE (BS '71), Arlington, VA, was appointed chair of the Northern Virginia Conservation Trust Board (NVTC), which advocates for public land and appropriate land use. Kirkbride is an urban planner with Dewberry, a privately held professional services firm.
VENU SRINIVASAN (MS '77, HDR '14), Bangalore, India, accepted a Distinguished Pinnacle Award from Purdue President Mitch Daniels on behalf of TVS Motors in recognition of the company's contributions of more than $1 million to the University. The company's most recent gift was highlighted with the establishment of the Indian Emerging Scholar Fund that is intended to help attract the best and brightest Indian undergraduates to Purdue.
ROLAND PARRISH (BS '75, MS '76), president, CEO and owner of Parrish McDonald's Restaurants Ltd., was presented with a Lifetime Achievement award at Dallas Business Journal's 2017 Minority Business Leader Awards ceremony. His company has been among Black Enterprise magazine's BE 100 as one of the Top 100 Black Owned Businesses in the United States for 12 consecutive years.
CAROLYN WOO (BS '76, MS '76, PHD '79), former president and CEO of Catholic Relief Services, has returned to Purdue as the Distinguished President's Fellow for Global Development. Woo's ties to Purdue began as a student in the Krannert in 1972, then as a faculty member and administrator until 1997, when she became the dean of the University of Notre Dame's Mendoza College of Business from 1997-2011.
1980s
TOM STANLEY (MS '80, PHD '82), Conway, AK, will retire in May as the Julia Mobley Odyssey Professor of Economics and Business at Hendrix College.
BETH BROOKE-MARCINIAK (BS '81, HDR '12), global vice chair of public policy at EY, was recognized as the 2017 recipient of the Theodore Roosevelt Award, the NCAA's highest honor. The award is given annually to an individual who exemplifies the ideals of college sports. Brooke-Marciniak played for the Boilermakers from 1977 to 1980 and was in the first class of women to receive basketball scholarships at Purdue. She has been named to Forbes magazine's list of the Top 100 Most Powerful Women nine times and had a two-year stint working in the Department of the Treasury during the Clinton administration.
MATT COHOAT (BS '82) was named 2016 CFO of the year by the Indianapolis Business Journal. Cohoat serves as CFO at Bucknell Industrial, where he also directs strategic planning and has grown the company's revenue from $60 million to an estimated $275 billion. Beginning as an audit senior manager at Ernst & Young, Cohoat moved on to become controller/CFO of Duke Realty Corp. and president of Estridge Investments before joining Becknell in 2011.