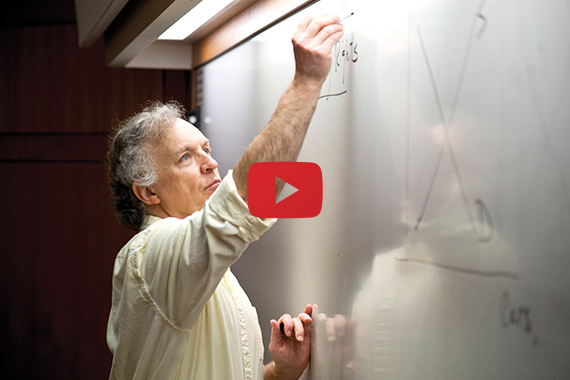 Award-winning professor John Umbeck explains the mission of the Purdue University Research Center in Economics.
Centered on Economics
PURCE expands its facilities and research efforts
Spring 2017

By Eric Nelson
Although the Purdue University Research Center in Economics (PURCE) was launched three years ago to conduct empirical research on the role of incentives, regulations and markets in public policy, its growing focus extends to topics that could be ripped from the headlines on any given news day.
From healthcare, education and the environment to gun violence and corporate governance, PURCE faculty and PhD students are primed for continued research that reflects the changing economic landscape ushered in by the United Kingdom's "Brexit" referendum to withdraw from the European Union and the recent United States presidential election.
"We're going to have numerous and very fascinating social experiments to explore over the next several years," says John Umbeck, director of PURCE and an award-winning professor of economics. "The current political climate is providing us with research opportunities we could have never imagined. It's not for us to take sides and judge what's good or bad, but to reveal what's actually happening so people can make rational decisions."
Envisioned by Umbeck and Jack Barron, the Loeb Professor of Economics and a former department head of economics, with support from the current department head Justin Tobias, PURCE will soon have a new home. Renovation for its location on the third floor of the Krannert Building began in November 2016 and is expected to conclude in fall of 2017.
PURCE has grown rapidly because of philanthropic giving that has supported the center's economic research mission. After receiving initial seed money from faculty who personally donated to the new center, the initiative has received several million dollars in contributions from more than six foundations and half a dozen alumni, including Krannert alumnus Steven A. Webster and his wife, Linda.
"The momentum behind economics research of all types at Purdue is really thrilling," says David Hummels, dean of the Krannert School. "Faculty who are affiliated with PURCE are excited to have a place to collaborate on their research and to mentor students."
Umbeck says he plans to make the center's research accessible even to those who are not the typical readers of scholarly economic research publications.
"Our goal is to increase the economic literacy of the state and country," he says. "Part of our mission will be to translate our research into unbiased data analysis that policymakers, educators and Americans can use to raise the level of discourse in our democracy."
Tobias, the current department head, says the center will fill a critical national need.
"As much as any discipline, economics offers hope to address the many public policy challenges facing our nation," he says. "PURCE will add an empirically rigorous voice to the study of policy issues and will help us grow our faculty presence and reputation in this area."