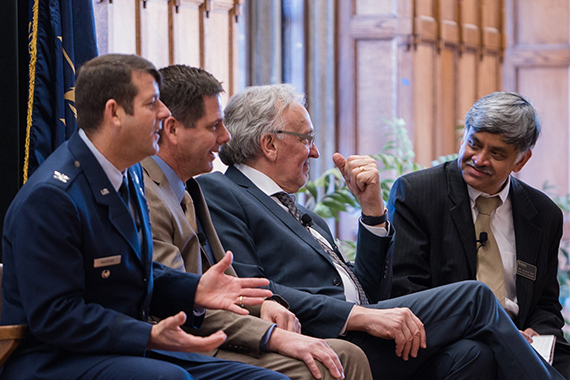 From left to right: Col. Randall Warring, Jan-Anders Manson, Scott Lake and Anath Iyer discuss supply chain resiliency at the the 2017 GSCMI spring conference. (Photo courtesy of GSCMI)
Managing Supply Chain Resiliency
Conference brings together industry leaders to discuss globalization
Spring 2017

By Eric Nelson
Purdue University's Krannert School of Management brought together industry leaders, faculty, undergraduate and graduate students for a Feb. 17 conference to discuss the best practices in globalization.
Organized by Krannert's Global Supply Chain Management Initiative (GSCMI) and held in the Purdue Memorial Union, this year's conference took "Managing Global Supply Chain Resiliency" as its theme and focused on the sourcing, manufacturing and distribution of products outside U.S. borders.
"One of the things that all business schools need to do is deeply engage industries in projects and student programming efforts that make what happens in the classroom connect with what happens in the world," said Krannert Dean David Hummels in his opening remarks.
"I think there are numerous political shocks to the global supply chain on the horizon, and executives of globally-connected firms need to think in terms of how to manage for resiliency," he continued. "There's a right way you can do it and there's a wrong way you can do it. I think Purdue and our research centers like GSCMI are doing it right and this conference is an excellent example."
Ananth Iyer, Purdue's Susan Bulkeley Butler Chair in Operations Management, serves as director of GSCMI and its affiliate center, the Dauch Center for the Management of Manufacturing Enterprises.
In addition to existing partnerships with American Axle & Manufacturing, ArcelorMittal, Caterpillar, Eaton, General Motors and Deere & Co., Iyer announced plans to engage industry further through projects funded by the Indiana Manufacturing Center (INMaC). He also highlighted GSCMI's newly established Technical Advisory Board and the creation of a "Smart Lean Ecosystem Engagement Center" that will allow students to work with companies on creating business and product prototypes.
"The continued growth of technology such smart manufacturing, video analytics, 3-D printing and drones offers the potential for many exciting projects," Iyer said. "This year will see us focused on building our foundation, expanding our collaboration with industry and creating new opportunities for students."
Steve Dunlop, managing director for GSCMI, said the conference brought some of industry's best leaders to campus. "We've steadily increased the prestige and quality of our speakers," he says. "These are senior individuals who are doing cutting-edge things and growing their operations rapidly."
Col. Randall E. Warring, vice director of the 448th Supply Chain Management Wing and U.S. Air Force Sustainment Center at Tinker Air Force Base in Oklahoma, led off this year's keynote speakers, followed by Jan-Anders Manson, Purdue Distinguished Professor of Materials and Chemical Engineering, and Scott R. Lake, global manager of Supplier Development and Risk, Agriculture and Turf Division at Deere & Co.
Jim Churchman, vice president of Supply Chain Site Operations and Logistics at Advocate Health Care, and Steven Gregory Magnusen, senior director, Global Supply Chain at Eli Lilly & Co., concluded the morning session. Alexandra Sokol, supply chain analyst, Corporate Planning Allocations, at ArcelorMittal, and Dustin Smith, senior vice president and general manager of Commercial Trailer Products at Wabash National, spoke in the afternoon.
The audience enjoyed interactions not only with industry speakers, but also with students from six business schools who were on campus to compete in a case competition hosted during the conference. The center develops fresh cases each year that reflect current ideas and highlight the best ideas from students as they grapple with developing solutions. Industry participants at the conference served as judges to pick the winners of the case competition.
"Both the spring GSCMI conference and our fall DCMME conference reinforce Purdue's international presence among business and industry leaders," said Dunlop. "We want our faculty and students to be their first reference for addressing problems, providing solutions and ensuring the sustainability and resiliency of manufacturing and the global supply chain."