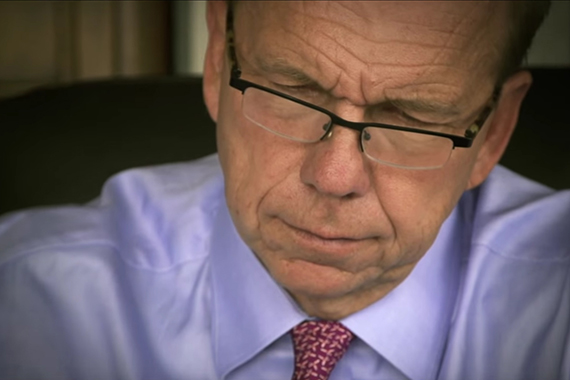 Andy Berg, co-founder and CEO of Homrich Berg (HB), has been recognized by leading business publications as one of the nation's best financial advisors. (Photo courtesy of HB)
Exactly as Planned
Top-ranked financial advisor Andy Berg gives by example
Spring 2017

By Eric Nelson
People seeking financial advice would not find any more sound than that offered by Krannert alumnus Andy Berg (BSM '82), co-founder and chief executive officer of Homrich Berg (HB) in Atlanta, Georgia.
Recognized by Barron's as one of the nation's Top 100 Independent Financial Advisors for nine consecutive years, along with similar distinction from Fortune and other industry media, Berg started HB with the belief that high-net-worth individuals needed access to conflict free financial planning and investment advice.
He developed the firm's model for serving clients' wealth management needs on a fee-only basis, providing his diverse clientele with hands-on counsel and expertise.  HB is now one of the largest wealth management firms in the country, managing over $4.5 billion for about 1,000 families.
"It is certainly an honor to be recognized by Barron's alongside many of the nation's most well-respected advisers," Berg says. "My success can truly be attributed to our strong team, as well as our clients, who trust us to make the right financial decisions on their behalf."
Berg also believes firmly in giving back, serving on the board of directors for the Andrade Faxon Charities for Children, the board of the "I Have a Dream" Foundation (IHDF), the Leadership Council for the American Diabetes Association, the Corporate Advisory Board for the Georgia Goal Scholarship Program Inc., the Atlanta Opera and the Buckhead Coalition.
His generosity extends to his alma mater, supporting the University and the Krannert School with an annual gift and scholarship funding. Most recently, Berg made an unrestricted, planned gift of $250,000 to the School of Management Fund that will help seed innovative new courses and initiatives and allow Krannert to remain dynamic and responsive in a changing world.
"It's my pleasure to support a place that helped me get to where I am today," he says. "It was a great education with great teachers and I was blessed to have chosen Purdue and Krannert."
Berg and his company counsel their clients on similar financial decisions, including saving for their children's college education. "Tuition affordability is becoming more and more of an issue for people," he says. "It's becoming a problem that needs to be addressed and I'm encouraged that Krannert and Purdue have that top of mind."
As someone who clearly recognizes the benefits of planned giving, Berg says his company's clients often include it as part of their overall estate planning.
"It obviously depends on whether they have the financial means to make a gift during their lifetime or thereafter," Berg says, "but it's rewarding for clients to make a gift that can be impactful.
"We help our clients visualize what's going to happen to their money upon their death given the current estate plan provisions provided in their will. As we illustrate that, it sometimes becomes clear to them that it might not exactly be what they had in mind.
"That in turn opens the opportunity to give to charity, which accomplishes two things," he explains. "First, it allows them to distribute their estate in a manner consistent with their wishes, and second, of course, it reduces their estate tax. As a result, they can make larger gifts than they might have anticipated."
Berg also notes that a high net worth is not required to make a planned gift. "Under today's law, only a very small portion of the population would have to pay an estate tax, but philanthropy doesn't have an earning threshold," he says. "If it's consistent with their wishes, anyone can make a specific bequest for a modest amount in their wills."
Whether it be a gift of money or time, Berg believes all alumni should consider giving it thought.
"I think it's important that people reflect on the schools they attended, the support they received as students and recognize the importance of that time," he says. "A good education influences success both personally and professionally, and that's what Purdue did for me."