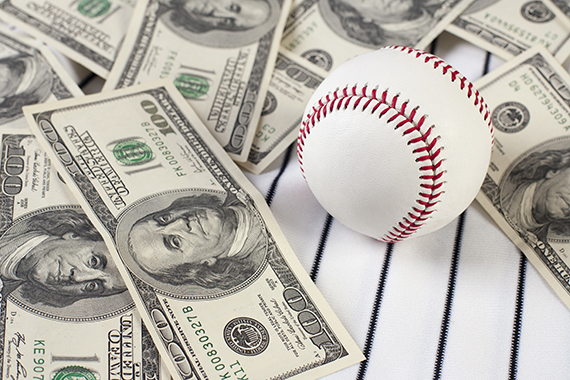 The era of big data has reaped big money for teams, students and investors skilled in sports analytics, and Krannert has responded by introducing courses related to the business of sports and bringing in guest speakers who are experts in the field. (Stock photo)
Swing Away
Data analytics ups the game for sports teams, students and investors
Spring 2017

By Eric Nelson
For amateurs, understanding the concept of sports analytics is as simple as watching Moneyball, the Hollywood feature film that tells the story of Billy Beane, who as general manager of the Oakland Athletics used a data-driven approach to assemble a team that competed successfully with higher-revenue Major League Baseball franchises in larger markets.
For hardcore fantasy league players or budding business professionals seeking a job or income from the sports industry, however, the explanation is more complex.
Just ask expert Dave Schrader, who discussed "The Golden Age of Sports Analytics" at a February presentation in the Krannert Auditorium that highlighted the practical application of analytics and how those applications help teach and practice business skills.
"Sports is a big business that generates $145 billion worldwide," said Schrader, who earned a PhD in computer science from Purdue and was named a School of Science Distinguished Graduate in 2004. "That's made sports analytics a hot area because of the vast amount of data generated that teams use to create insights to improve their decision-making."
The presentation was part of a Data Mining course taught by Matthew Lanham, a clinical assistant professor in Krannert's quantitative methods area whose analytics courses often have external speakers whom are experts in certain topical areas.
Ron Menich, chief data scientist at Infor, spoke about "Retail Analytics" as part of Lanham's Predictive Analytics course last semester. Chuck Bower, chief scientist at Edj Analytics, also spoke to students about how NFL teams use his ZEUS simulation software for situational game planning.
According to Lanham, "The best way to learn business analytics is for the students to see how the methods and technologies we teach are being used right now by industry's best to support decision-making."
Schrader, known as "Dr. Dave," retired after 30 years of industry experience at high-tech database companies and serves on the board of directors for the Teradata University Network, which sponsored the talk.
Among the topics Schrader addressed were:
What is happening around the world to collect and analyze data for recruiting, player development, game planning and injury prevention?
How are analytics being used to improve business operations — ticket pricing, sales and sponsorships?
What analytics do leading pro teams and leagues use for basketball, baseball, football, and soccer? How quickly are teams adopting analytics?  Who is leading? What are they doing?
How do analytic techniques used in business apply to sports?  Where are there gaps? What are interesting research problems in sports analytics?
How can universities collaborate with their sports programs to provide analytics for teams?  What are good first projects to launch?
The biggest data challenge facing sports teams is often one of "feast or famine," Schrader said. "There's either not enough data or too much data. With multiple vendors come multiple systems, which means the data isn't integrated and lacks actionable recommendations," he said.