One measure of a business school's excellence is how it innovates its curriculum in response to student and industry needs. Purdue University's School of Management is doing just that with the launch of the Dean V. White Real Estate Finance Program, which is offering minors in real estate and real estate finance beginning in the 2022-23 academic year.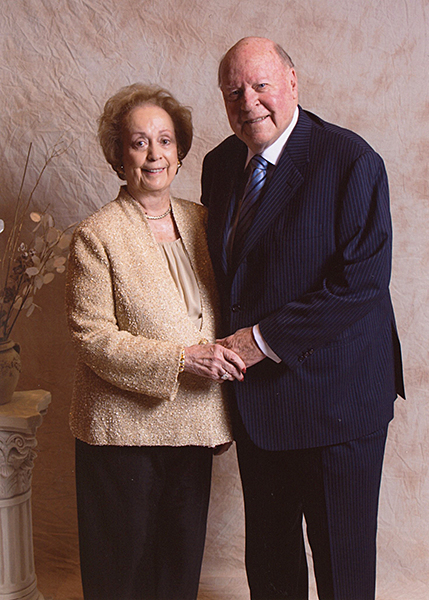 Targeting the growing demand for talent within the rapidly evolving real estate industry, the program provides an academic experience for students that equips them to plan, develop and manage successful commercial real estate projects. High-impact experiential learning opportunities – a key component of Purdue's Next Moves: Transformative Education 2.0 – connect students with real estate experts and prepare them for industry-leading positions and careers. 
"We are seeing fascinating changes in real estate markets to how and where people live, work and recreate. These changes represent a fundamental challenge and opportunity for business," says David Hummels, the Dr. Samuel R. Allen Dean of the School of Management. "Graduates from this program will be ready to take a leadership role in confronting these challenges and seizing these opportunities."
The new program is named in memory of the late Indiana entrepreneur and in recognition of a $20.8 million pledge from the Dean and Barbara White Family Foundation, the largest monetary contribution ever made to the School of Business.
"This is a gift that can transform the school for decades to come," Hummels says. "We are grateful for the Foundation's generosity and will ensure the program positively represents Dean's legacy."
Establishing faculty expertise 
Innovation requires expertise, and the Dean V. White Real Estate Finance Program is being built by a trio of new faculty members with support from the dean's office.
"We have brought together an outstanding group of faculty with deep subject matter expertise and significant experience leading and teaching in some of the world's best real estate programs," Hummels says. "They'll be expanding the frontier of knowledge in a critical and changing field. The combination of outstanding faculty and students will also help us to answer a growing industry demand, both for research expertise and especially talent."
The new faculty members are led by Mike Eriksen, the director of the program and a professor of economics. Prior to joining Purdue, Eriksen served as the West Shell Associate Professor of Real Estate at the University of Cincinnati and academic director of the UC Real Estate Center. He holds a bachelor's degree in economics and biology from Gonzaga University, and a PhD in economics from Syracuse University. He was previously on the faculty at the University of Georgia and Texas Tech University and was a visiting scholar at the Federal Reserve Bank of Cleveland in 2019.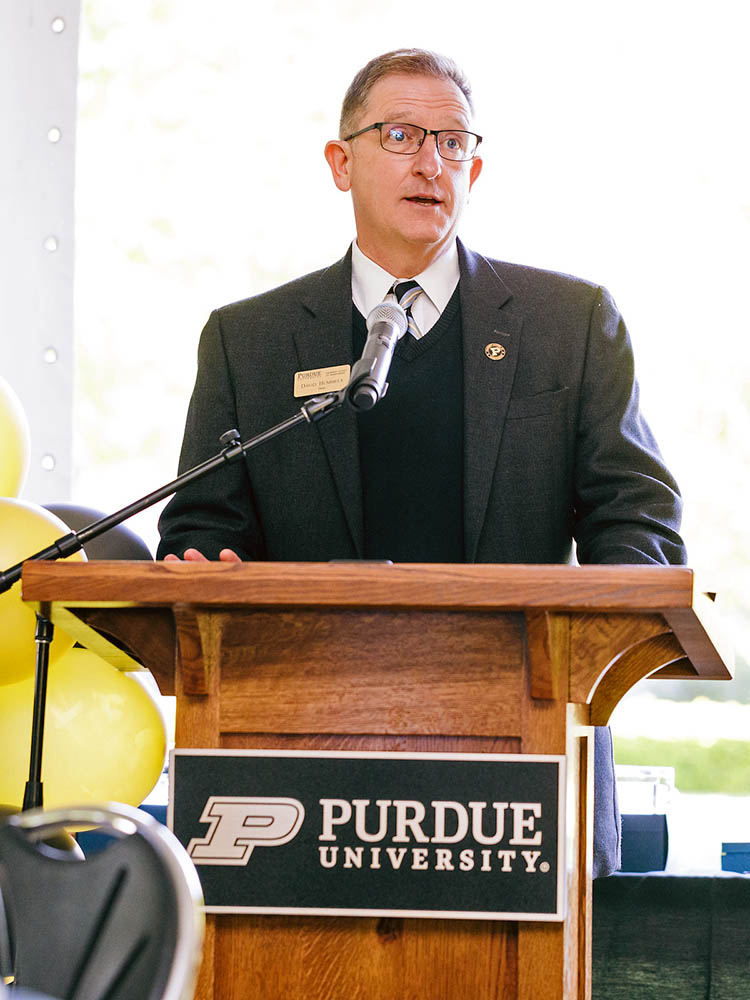 "A quarter of the world's economic wealth is in real estate and more than 9 million Americans work in real estate related fields," Eriksen says. "It shapes the economic conditions of individuals, families, and firms. The quality of real estate also affects a community's ability to attract and support profitable business activities, as well as to provide secure, convenient, and affordable housing. 
"The Dean V. White Real Estate Finance program will not only benefit Purdue students in opening new career paths, but will also benefit local communities, the state of Indiana, and the real estate industry in providing the next generation of real estate experts who will shape how we live and work."
Eriksen is joined by new faculty members Aaron Hedlund and Lindsay Relihan.
Hedlund comes to Purdue from the University of Missouri, where he was a tenured associate professor of economics. He is also a research fellow at the Federal Reserve Bank of St. Louis and served as senior adviser and chief domestic economist at the White House Council of Economic Advisers from 2020-21. He received his PhD in economics from the University of Pennsylvania and a bachelor's degree in economics and mathematics from Duke University.
Relihan arrives at Purdue's School of Management from the London School of Economics, where she was an assistant professor of real estate economics and finance. She is an applied microeconomist with interests in urban economics, household finance, and real estate. She graduated with a PhD in applied economics from The Wharton School, University of Pennsylvania.
Among the courses they will teach is a required, introductory course, Real Estate Fundamentals (MGMT 37000), that will cover real estate terminology, roles in the industry, and tools used to make informed decisions. It will include a combination of lectures, projects, and guest speakers to help students decide whether a future career in real estate is right for them.   
"We want the fundamentals course to be something that broadens students' appetite for continuing in the program," Relihan says. "We would like them to get a good grasp of the important, broad economic forces that shape different property markets and how those property markets intersect. We would also love for students to get a sense of how interesting and fascinating real estate is so they want to dive deeper into the topics."  
"The advantage of starting a program like this is that we can look at best practices from across some of the top real estate departments throughout the country, borrow from them, discard the things that don't work as well, and innovate and create things that work even better," Hedlund says. "It's a great opportunity to develop a well-rounded curriculum that gives students the necessary, specific real estate knowledge, along with the broader tools, to provide unique insights to whichever employers they work for."
Preparing students for jobs 
Eriksen says a primary focus of the new program will be student success both inside and outside of the classroom. This will be accomplished by providing students with industry mentors, internships, and job placement at some of the top real estate companies in the world. "The easiest way to build a successful real estate program is to invest in the students, as their own success is your best advertisement to future students and employers," he says. 
To that end, Relihan and her colleagues also plan to incorporate research into the classroom. "My research and other current research inform the topics I like to teach," she says. "I think I can bring a lot of expertise in data science for real estate. There's so much new data coming online to study both residential and commercial markets, and data science skills are widely applicable in today's job fields and are becoming a necessary part of finance and real estate."
Another focus will be experiential learning, Hedlund says. "There's a place for traditional lectures and notes, textbooks, and online materials to give people the raw baseline of skills and tools," he says. "But that learning is going to sink in in a much more profound and practical manner if we also do case studies, connect students with internships, and give them a sense of what they'll actually be doing in their careers."
Eriksen says Purdue School of Management graduates already have many advantages compared to their peers, including access to top faculty and one of the nation's strongest alumni networks. "The hope with the new program is to amplify this existing success around a new curriculum area," he says. "We plan to get our students to regional and national real estate markets as much as possible to meet with alumni and experience real estate firsthand."
"A combination of discipline-leading faculty and partnerships with key individuals and firms in the real estate industry will create the kind of innovative academic experience that will attract exceptional students and prepare them for industry leading positions and careers."
Eriksen says that will ultimately make students more competitive in the job market. 
"It is increasingly hard for students to differentiate themselves from other applicants for the nation's top jobs," he says. "A minor in real estate finance will give them a combination of practical knowledge and technical expertise that is lacking in most real estate graduates today and will make them sought after by the world's leading companies."  
"The Dean V. White Real Estate Finance Program will enable both a unique and highly relevant classroom experience and high impact experiential learning opportunities for students," adds Purdue Provost Jay Akridge. "A combination of discipline-leading faculty and partnerships with key individuals and firms in the real estate industry will create the kind of innovative academic experience that will attract exceptional students and prepare them for industry leading positions and careers."
Indeed, almost all fields have some aspect that interacts with real estate and could potentially find an applicant with a real estate minor appealing.
"As a program we will focus on commercial real estate and income-producing assets," Eriksen says. "This includes careers in development, marketing, accounting, finance, and many other areas. Better decisions about the creation and use of real estate assets will ultimately bring greater productivity, wealth, and quality of life, making the subject an ideal opportunity to think creatively to solve problems.
"The hope is that students can use a general awareness of how we live and work to identify opportunities to alter those environments to make the world more productive and efficient and make our communities and industries stronger."
Alumni agree that graduates of the program will find a growing demand for employment. "Exposing students to commercial real estate will open up many high-paying job opportunities," says Purdue alumna Shannon Hunt, senior leasing and sales associate at Veritas Realty in Indianapolis. "I am thrilled that Purdue is offering this minor and believe it will give students a head start in commercial real estate, as well as benefit the strong real estate companies we have within the state as they recruit top talent."
Hummels says the new program reflects Purdue's ongoing commitment to meeting the needs of the market. "Business schools have to change to reflect what's happening in the world," he says. "It's one thing to sit behind these walls and talk about the things of interest to us, but if we're not changing our academic programming to reflect what is important to employers and policymakers, then we are not equipping our students for the world they're going to face when they leave here."
By Eric Nelson