As a top-ranked business school operating within a university at the forefront of science, technology, and engineering research and education, the Krannert Graduate School of Management provides its doctoral students with a unique competitive edge that few institutions can match.
The school's PhD program prepares leaders who transform business and business education through rigorous analysis and innovative insight. Doctoral students also work closely with distinguished business school faculty to develop the research and teaching skills required for successful and rewarding careers.
Meet two recent alumni of the program and two current students to learn more about their research and teaching efforts.
Persistent Pursuit
Danyang Zhang, who earned her PhD in economics in 2022, arrived at Purdue from Central University of Finance and Economics in China, where she earned a BA in 2014 and MS in 2016.
"One of my professors recommended the economics program at Purdue for its solid reputation in research," she says. "He strongly advised me to apply."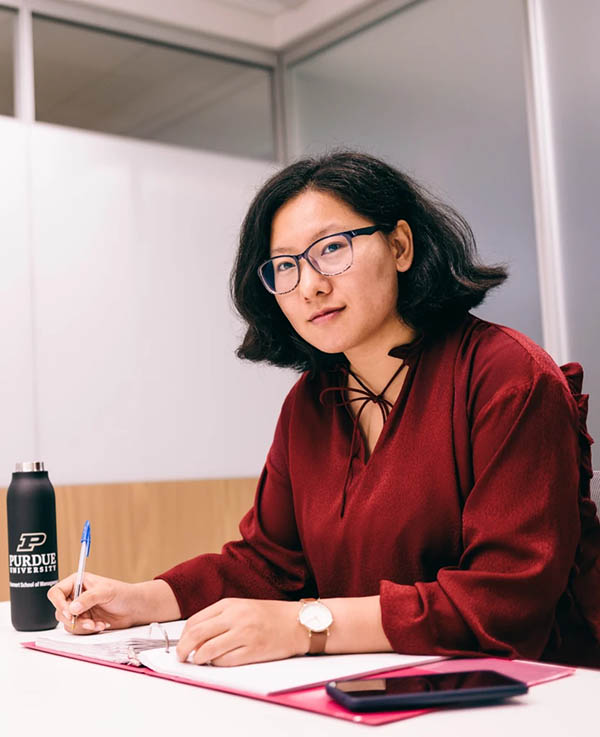 Zhang's current areas of research are labor and international trade. "I had been doing research in international trade before I enrolled at Purdue, and labor was my secondary field at that time," she says. "Later on, I found labor to be a more interesting area because it studies the topics that are most relevant to our daily life, such as gender inequality and discrimination. Now, labor is my primary field and international trade is my secondary field."
Beyond the academics, Zhang appreciated the friendly environment she found at Purdue. "My advisors were very helpful, especially when I was looking for research ideas," she says. "I would not have made it to graduation this summer without them. They not only provided good academic advice, but were also emotionally supportive."
She also points to the support she received from her PhD program cohort. "We always shared useful information and encouraged each other, which helped a lot in reducing stress," Zhang says. "Unlike other Economics PhD programs where there is a lot of within-cohort competition, my cohort had more collaboration and communication."
Purdue's diverse student body was another plus. "As an international student, I did not have to worry about being discriminated against or mistreated," she says. "Having friends from different cultural backgrounds also makes me more open-minded."
Working on her dissertation, "Marriage Market Signaling and Women's Occupation Choice," taught Zhang to be persistent. "Research is not an easy task," she says. "I had a hard time finding a dissertation topic, so I'm glad I did not give up halfway through. I learned to not reject a project or idea before I try hard enough to make it work."
She describes writing her dissertation as "great training" for her future research. "I went through the whole process of generating a paper, from finding an idea, writing a model, thinking about what predictions to test, what data to use, and how to empirically carry it out."
Today, Zhang is starting her academic career as an assistant professor of economics in the College of Business at the University of Akron. "I want to continue to work in academia and keep doing the research that interests me," she says.
Marketing Matters
Like many students in Krannert's Graduate School of Management, PhD candidate and master's alumnus Rajan Mishra began his education in STEM, earning a bachelor's of technology degree in mechanical engineering from the Kalinga Institute of Industrial Technology in India in 2012.
Mishra quickly followed a new career path with a post-graduate diploma in management, marketing, and operations from India's Management Development Institute. After working in industry for four years, he chose to further his studies again by coming to Purdue, where he began working toward a master's degree in economics and a PhD in marketing in 2018.  
Mishra says he chose the school based on its reputation and ranking among the top business schools in the United States. "Purdue provides ample opportunities for research and professional development," he says. "The diversity of students was another important factor in the enrollment decision. Also, the focus on quantitative marketing aligns with my interest in empirical analysis."
His interest in marketing began during his time as a product marketing manager for Indiamart Intermesh Limited. "Marketing is both an art and science and gives me the option of thinking both analytically and creatively," Mishra says. "I realized during my time in the corporate world that it is a dynamic and exciting field to study. A PhD in marketing will help me obtain deeper insights into consumer purchase decisions and design a marketing program to get better responses."
Mishra has also enjoyed himself in the classroom. "Teaching the undergraduate marketing course at Purdue gave me an opportunity to upgrade my skills and refresh my knowledge of the subject," he says. "Teaching also allows me to interact with students from diverse backgrounds, which in turn has provided me with immense cultural and professional experience." 
From a research perspective, Mishra shows a natural inclination toward empirical analysis. "Coursework on the fundamentals of econometrics helped me learn the various analytical tools and skills required to do intensive data analysis," he says. "This formed the foundation of the research skills required in the third and fourth years of my PhD studies."
Mishra recently published his first paper on environmental economics, which gave him the experience of conducting a field experiment and an understanding of the publication process. "My present studies are mostly concentrated on digital marketing and consumer choice," he says. "I am also learning how to think out of the box for the research and how to structure the paper to tell a story."
Upon completing his degree in 2023, Mishra plans to pursue a career in academia. "I would like to join a university that focuses on research as well as teaching," he says. "I believe my prior work experience and my PhD in marketing will help me contribute to the field."
Transforming Platforms
Sameer Borwankar enjoyed his MBA studies at Purdue so much that he decided to return to earn his PhD.
Borwankar, who holds a bachelor's degree in mechanical engineering from Savitribai Phule Pune University in India, completed his MBA at the Krannert Graduate School of Management in 2012. He also earned a master's degree in economics in 2017 to begin his doctoral studies in management information systems.
"I had an excellent time at Purdue during my MBA days," he says. "I got to interact with a very diverse body of students — not only from different countries but from different personal and professional backgrounds. It was even more special because I ended up meeting my future wife, Nikita (Atal), on campus," Borwankar says.
Atal, a dual-Boilermaker who earned a MS in computer and information technology at Purdue in 2012, worked at Cummins Inc. before returning to the West Lafayette campus to earn an MBA in 2017. After a stint at A.T. Kearney, she returned to Cummins as a corporate strategy manager.
Following his wife's lead, Borwankar got an interview with the recruiting team at Cummins while he was an MBA student. He became part of the Fortune 500 company's rotational development program, which gave him exposure to four different business units along with a career that allowed him to flourish in the technology field. In his last role at Cummins, he led the digital workspace implementation team for corporate IT, as well as a global project to introduce a digital platform to be used by 60,000 employees.
After five years at Cummins, Borwankar decided to return to Purdue for his PhD. "My interactions with the faculty convinced me that getting a PhD in management information systems would allow me to contribute more on the impact of technology and further my career," he says.
Borwankar's research focuses on the societal and economic impact of social media platforms. "I specifically look at Twitter's crowdsourcing program and how it helps or doesn't help the generation of misinformation on that particular platform," he says. "We address these questions from a business perspective."
He has also conducted research experiments through the Vernon Smith Experimental Economics Laboratory (VSEEL), a state-of-the-art facility for data collection for economics, management, and other social sciences.
"I deal with terabytes of social media data that can't be processed with typical computers," he says. "In order to process the data and address the research questions, we take advantage of Purdue's supercomputing network. Not all universities have those kind of resources."
Upon graduation, Borwankar hopes to continue his research agenda as a professor at a university similar to Purdue that has an active research group and thriving student body. "Ideally, I would like to get a job in academia, but I have seen other students going back to industry as a scientist for one of the large tech firms, so that's also an option given my industry background," he says.
Research Recognition
Before joining the PhD program in economics, Xuwen Yu earned a bachelor's degree in finance and a master's degree in statistics from the University of Science and Technology in China. He chose to continue his studies at Purdue based on its international standing.
"Purdue has a global reputation in a wide range of subjects, including arts and science, engineering, and management, among others," he says. "In addition, the Krannert Graduate School of Management has attracted many world-renowned business and economics scholars."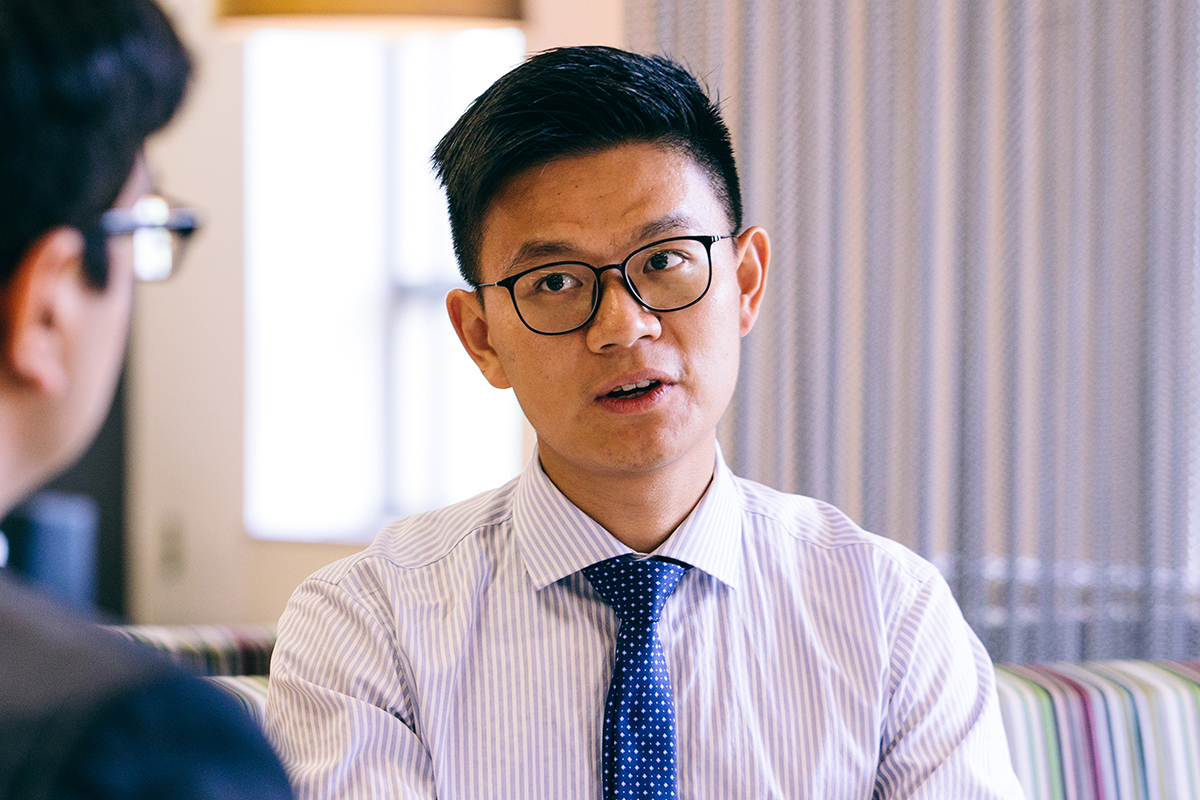 Xu's interest in economics seemed like a natural progression from his undergraduate and master's education. "Economics focuses on the behavior and interactions of economic agents and how economies work," he says. "I am interested in how to use quantitative analysis, which we call econometrics, to describe how it works."
Xu says his time in the PhD program cohort was like joining a family. "We enjoyed studying together, preparing for exams, having parties, going on trips, and helping each other with our research," he says.
He also enjoyed his time on campus. "Purdue is a welcoming, diverse, and vibrant community," Xu says. "When you have any questions, faculty and staff are always very approachable. People from all around the world can become your friends. West Lafayette is also a wonderful place to live, study, and have fun."
Most importantly, Xu learned how to conduct research, publish scholarly articles, and deliver findings to audiences.
"My studies in the PhD program allowed me to rapidly improve my research skills," he says. "I published two articles that were coauthored and supervised by my advisor, Professor Mohitosh Kejriwal, in the Journal of Time Series Analysis, and another one in The Econometrics Journal."
His research is already winning accolades. The editors of The Econometrics Journal awarded the 2021 Denis Sargan Econometrics Prize to Yu for his article "Generalized forecast averaging in autoregressions with a near unit root," which he coauthored with Kejriwal.
The Sargan prize was introduced in 2011 on behalf of the Royal Economic Society. It is awarded for the best unsolicited article published in The Econometrics Journal in a given year by anyone who is within five years of receiving their doctorate. An honorarium is awarded to the winning author.
Xu also presented his research at the 2021 International Association for Applied Econometrics Annual Conference and the International Conference on Computational and Financial Econometrics.
In addition, Xu received the school's 2021 Bilsland Dissertation Fellowship and has won recognition for his teaching at both the undergraduate and master's level. He completed his degree in 2022 and is planning to work as a researcher in either academia or industry. "I want to have an impact on my field of study," he says.
By Eric Nelson