Wyatt Nelson, a captain in the U.S. Marine Corps, began his military career as a Navy ROTC student at Purdue, where he earned a bachelor's degree in law and society. Now, he is beginning his transition from active-duty military service to the Selected Marine Corps Reserves (SMCR) through his participation in the Online MBA program in the Krannert Graduate School of Management.
"I grew up in Lexington, Kentucky, about four hours from Purdue, and knew in high school that I wanted to join the military," he says. "Unfortunately, there weren't any schools in the state where I could use my Navy ROTC and Marine Corps scholarship, so I drew a map to see where I could get far enough from home to not see my family every day, but close enough that I could still go home to visit. Purdue jumped out as a great opportunity to attend a phenomenal university."
Nelson describes his time in Purdue's Navy ROTC program as one of the best experiences of his life. "I made some great friends whom I still stay in contact with," he says. "It really felt like being a part of a community. They're absolutely like family to me."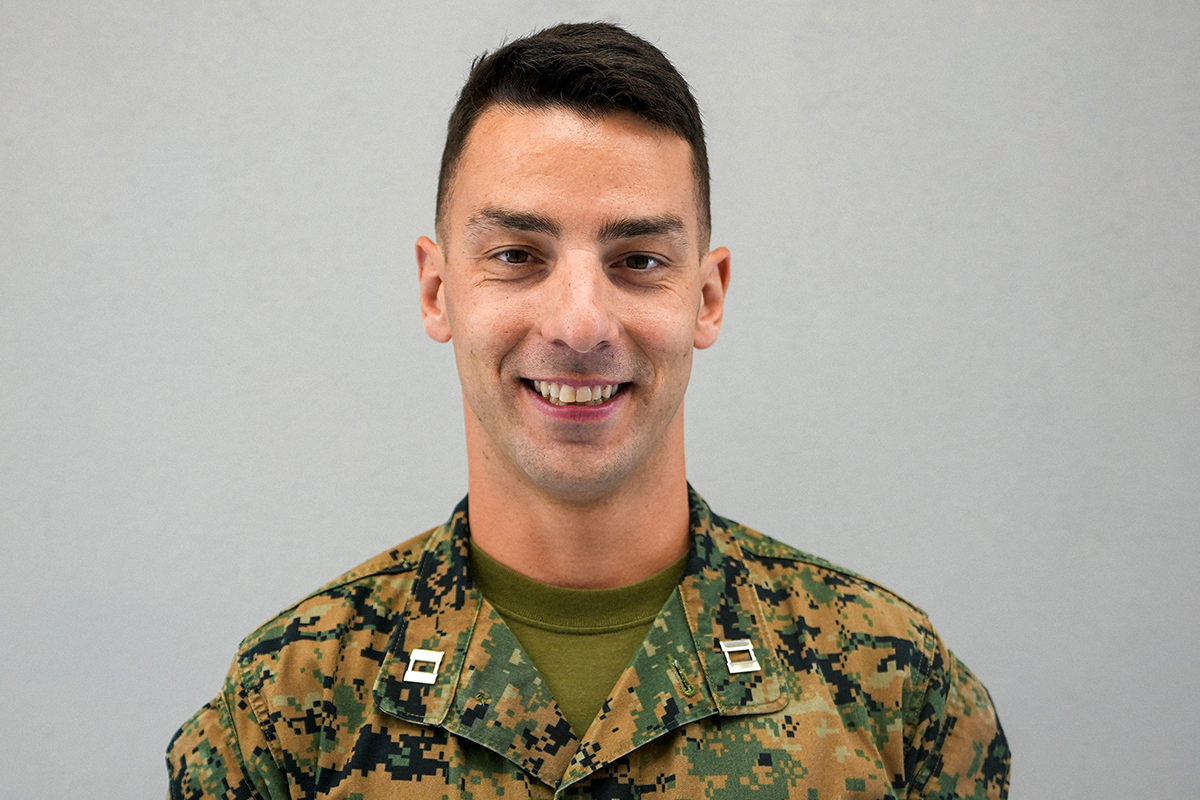 Nelson commissioned into the Marine Corps as a Second Lieutenant upon his graduation in 2016, spending his first six months in the "basic school" required of all new officers. Based on his performance, he was then selected to serve as a logistics officer.
"My career went from there," he says. "I did a lot of ground transportation-focused logistics while stationed at Camp Lejeune in North Carolina — things like convoys, resupplies and sustainment operations. And I've taken deployments to Kuwait and Norway and worked with coalition partners and NATO allies, all focused on global distribution and supply chain management."
Nelson currently serves as the lead instructor and course manager at the Naval Amphibious Base in Coronado, California, where he teaches maritime prepositioning force staff planning, amphibious warfare indoctrination, and joint logistics over the shore. "The goal is to help our current leadership across the Department of Defense understand all of the logistics-related planning considerations associated with maritime logistics and sustainment operations," he says.
Nelson began thinking about transitioning out of active duty during his most recent deployment. "I started looking at my career and I thought to myself, 'I've been doing this for six or seven years. I have a lot of experience in logistics and supply chain and global distribution,'" he says. "But if I was to take the uniform off, I didn't know what the other side of the fence looked like. I didn't have any idea what civilian life was like."
"Purdue just came back to me. It was phenomenal for my undergrad. I love the university. When I found out it had an Online MBA program, the stars aligned."
Determined to use his experience in logistics and an education in business to become more of an asset to non-military employers, Nelson began looking into various MBA programs. "Purdue just came back to me," he says. "It was phenomenal for my undergrad. I love the university. When I found out it had an Online MBA program, the stars aligned and it made sense for me to apply."
Nelson felt an MBA would complement his supply chain background. "I want to see how much more value I can add," he says. "An MBA will give me the business education I want while still building on my experience in logistics."
Nelson particularly appreciates the flexibility of the online program. "I serve full-time and have a 2-year-old at home, so time is at a premium," he says. "With the Purdue program, I can do my work at night, in the morning, or whenever it's most convenient. And if I have a question and send an email to an instructor in the middle of the night, the next morning I get an email back. Everyone is incredibly responsive."
He also enjoys the opportunity to interact with students from diverse backgrounds. "We have a lot of group meetings through Zoom and Microsoft Teams where we work on projects with people from all over the nation who have different careers," Nelson says. "I've learned as much from my classmates as I've learned in the required readings and curriculum. That's something you don't get in other online MBA programs that Purdue does very well."
Nelson says his military experience has been of great benefit in the program. "My specialty area is logistics, but my role is that of a leader," he says. "I have to set expectations and timelines and be cognizant of other people's needs. We get embedded in a team, leverage our strengths, and then divide and conquer around a shared goal. That's what I do in uniform, too."
Nelson plans to make his transition to SMCR and relocate to the Indianapolis area when his current assignment ends next year. "I'll be wearing the uniform just one weekend a month instead of every day," he says. "I'm not entirely sure yet what kind of job I want, but I look forward to taking what I've learned in the program and coupling it with my military experience. No matter what I do, Purdue has set me up for success."
By Eric Nelson