Nimisha Prasad received her bachelor's degree in psychology in May 2022, but she's already begun her studies in the MS in Human Resource Management (MSHRM) program at Krannert's Graduate School of Management thanks to its combined degree offering.
"I learned about the 4+1 program as a freshman, so I made sure to keep connected with the school and prepare myself for the master's program from undergrad," she says. "It's a great opportunity to earn a second degree in only one extra year of studies."
To qualify for the program, Prasad had to complete the core requirements for her psychology degree by her junior year, freeing up her senior year for management electives and graduate-level coursework. She also added a management minor in human resources. "Being able to take business courses as an undergrad was important to me," she says. "It's really helped prepare me for the graduate program."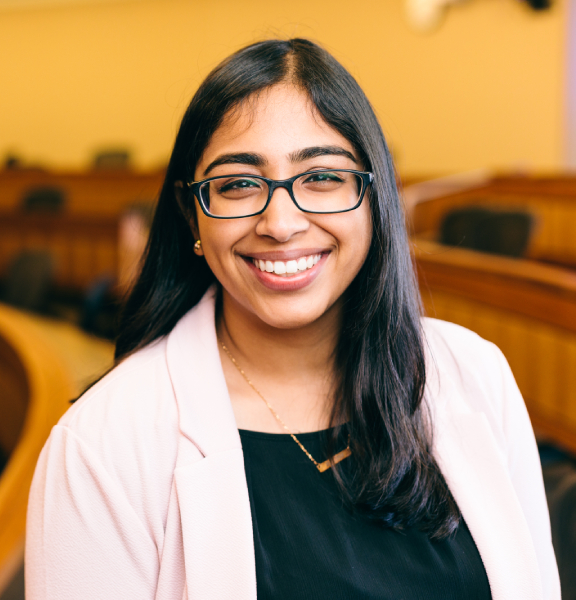 Prasad was also exposed to the research process early in her Purdue career. "I was able to connect my psychology background with the idea of worker motivation, which is something that is really important to me," she says. "I eventually got interested in the diversity and inclusion space through my research with the Asian American and Asian Resource and Cultural Center. That's something I'd like to continue to focus on in my career."
An internship with Amazon prior to her senior year was equally formative. Although it wasn't specifically an HR internship, Prasad took the initiative to put her management skills to work by overseeing the performance of associates to ensure productivity, cost, and safety standards compliance. "I also analyzed their training efforts for new hires and suggested solutions to decrease turnover," she says.
She points to two master's courses in particular as being among her favorites. "One was a course on employee selection procedures taught by Professor Mike Campion, who is one of the leading researchers in the field," she says. "That was one of the hardest classes I've taken, so it challenged me to really think about the topic."
The second was a strategic management course taught by Professor Umit Ozmel. "I felt like my background on the topic was lacking, but she made the course really interesting and engaged with us to make sure we understood the content," Prasad says.
The school's faculty and HR alumni have made an impact, too. "Something that I have valued at Purdue is having the ability to look at things from both a research and business perspective," she says. "I've been able to learn best practices from amazing faculty researchers as well as the HR leaders that the school brings into the classroom."
Beyond graduate-level coursework, another positive takeaway has been the focus on team projects. "I didn't have a lot of group work as a psychology major, and there wasn't a lot of diversity in my classes," she says. "At Krannert, we have team projects in almost every course, so that's helped me learn to listen to others and be open to new points of view."
"I've been able to learn best practices from amazing faculty researchers as well as the HR leaders that the school brings into the classroom."
Outside the classroom, Prasad is a resident assistant for the Purdue Honors College. "It's been really a great opportunity for me to supervise students and connect that to some of the things that I've even learned about HR," she says.
She's also the vice president of professional development for the Purdue chapter of the Society of Human Resources Management (SHRM), where she helped to build a program that pairs undergraduate HR students with more experienced graduate students.
Next up for Prasad was a summer internship with Capital One at its headquarters in McClean, Virginia. She hopes to secure a spot in the company's full-time HR rotational program upon graduation. "I'm really thankful for this program and all the opportunities I've had at Purdue," she says. "I feel like it's given me a competitive advantage in building my career."
By Eric Nelson