By Eric Nelson
The Master of Science in Global Supply Chain Management (MSGSCM) program at the Krannert Graduate School of Management builds upon the school's core strengths in operations, supply chain management, and business analytics to provide skills that position students for careers in managing global supply chains.
The program develops students' contextual knowledge and problem-solving skills to provide a unique global work experience. It also includes students from Purdue's global university partners, enabling a sharing of work experiences with teams from many different countries in both informal and formal classroom environments.
Here, we introduce you to three recent students from the program who are taking their careers to the next level.
Complementary Learning
Sara Fortman picked up her first college degree, a BS in Supply Chain Management Technology, from the Purdue Polytechnic Institute in May 2021. She was awarded her second, a MSGSCM degree from the Krannert Graduate School, in 2022.
"I fell in love with Purdue when I tagged along on my brother's college tours," she says. "When it was my turn to tour colleges, I fell in love with Purdue all over again. It had everything I wanted."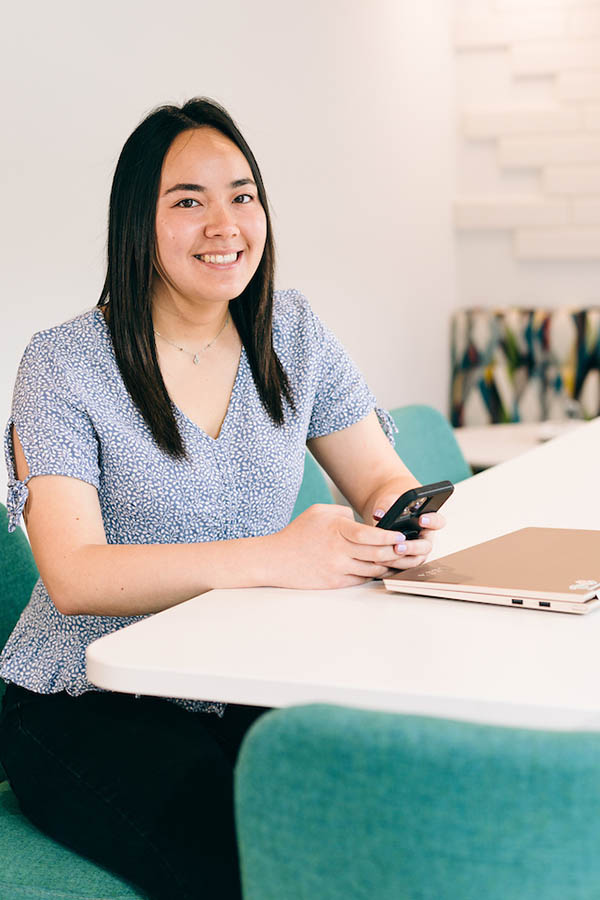 Continuing her education in grad school wasn't a foregone conclusion, however. "I initially hadn't planned to pursue a master's degree immediately after graduation, but I realized that if I didn't do it now, I might never go back to school," she says. "The Krannert graduate program really complemented the technical skills I developed through my undergraduate studies in supply chain technology."
With the help of the assistant director of her academic program, Fortman shaved six months off the 18-month MSGSCM program by accelerating the order of courses she took and completing a summer internship prior to the start of the fall 2021 semester.
"I was able to overlap some of my grad classes with my last semester of undergrad to get a head start, save money, and finish early," she says. "I was already one-third of the way into the program by the time my cohort officially started."
Although her unusual plan of study often placed her in courses with students from other MS programs, Fortman says the diversity of those experiences exposed her to a bigger world than she encountered as an undergrad. "I hadn't met a lot of international students before I started grad school, so it was great to hear different points of views and learn about different cultures," she says.
The opportunity for social interactions was another plus, Fortman says. "Someone from the program rented space in the Lafayette Brewing Company for dinner and a trivia night," she says. "That was a lot of fun because I had never been in a room with only supply chain people before. You get to know your classmates so much better when you're not in a classroom setting."
While still an undergrad, Fortman took a master's course in supply chain sustainability that applied directly to her internship with Walmart at its Greenfield, Indiana, return center. "My role was working on the trash and recycling line with the goal of reducing landfill waste," she says. "I helped reduce the facility's carbon footprint and potentially generate an extra $23,500 per year in recycling profits."
She took several classes taught by Amy David, an award-winning clinical associate professor who regularly incorporates group projects and case studies in her courses. "She gave us exposure to real-world situations and helped us develop skills that will be useful in the workforce," Fortman says.
Another of her favorite courses was Change Management with Professor Ben Dunford. "Every class was like an encouraging TEDx talk," Fortman says. "I didn't know anything about the topic going in, but it's one of the best classes I've ever taken."
Today, Fortman is beginning her career in supply chain management as a commodity manager at Allison Transmission. "Purdue's business school has been such a welcoming community," she says. "I'd recommend the school to anyone who wants to leverage their technical skills with a business degree."
Smooth Sailing
Prasad Raghu's arrival at Purdue as a student in the MSGSCM program seemed like a natural transition after working in industry for nearly nine years.
"I'm of Indian origin, but I was born and brought up in Nigeria," he says. "That's where I did my undergrad and started my professional journey of being in operations and handling aspects of supply chain, procurement, and logistics. I came out with a lot of skills, experience and growth, but at some point, I felt like I had plateaued and began considering graduate school."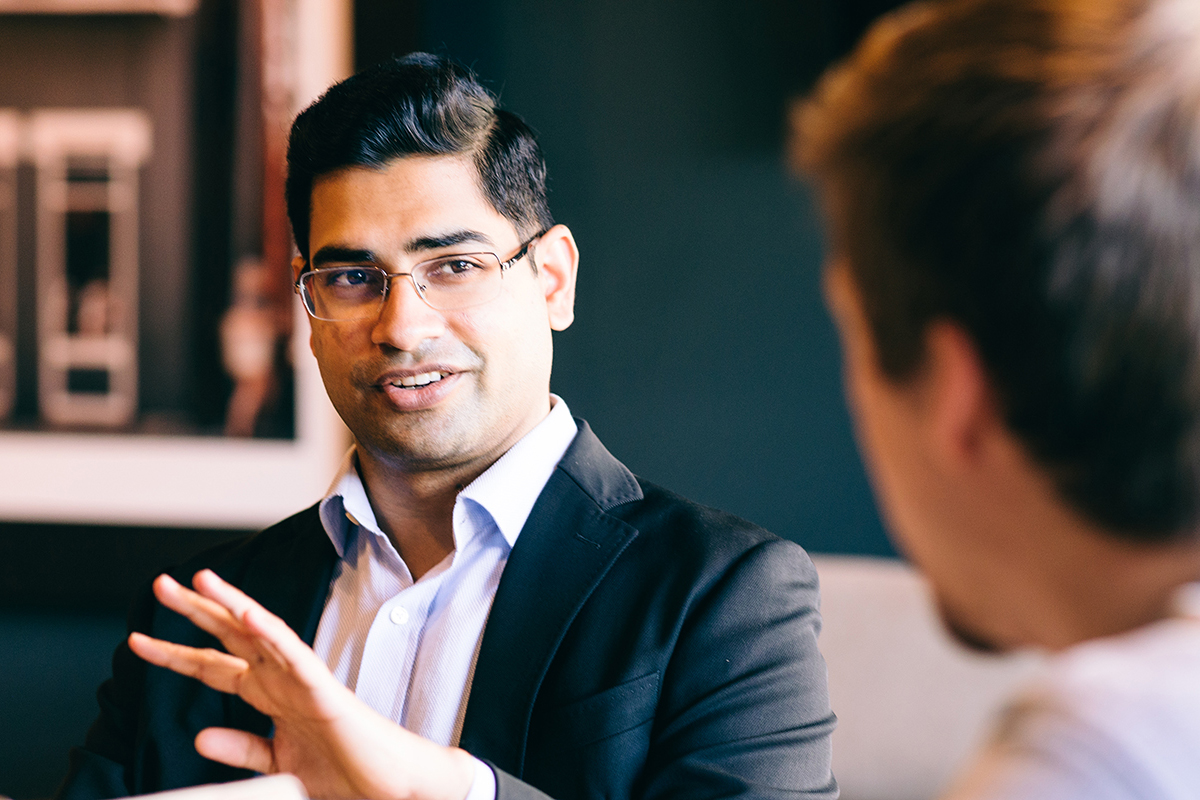 Although Raghu looked at programs in other English-speaking countries, Purdue quickly rose to the top of his list. "I was already leaning toward the U.S. because the education is much better and it's on a global scale," he says. "My brother and several of my cousins also went to Purdue, and it's consistently ranked in the top five for my areas of interest, so I knew it would take me where I wanted to go."
Raghu initially planned to pursue an MBA, but he couldn't get a visa in time and the residential program was temporarily put on pause as Purdue responded to market conditions. "My first option was to complete the online MBA program, but I really wanted an in-person learning experience," he says. "I ended up transferring to the MSGCM program and it's been smooth sailing ever since."
In fact, the cross-disciplinary nature of the curriculum at the Krannert Graduate School of Management helped Raghu tailor his degree with coursework not only in supply chain and operations, but also finance, marketing and other management disciplines. "I want to be able to think strategically and take all the aspects of business into consideration," he says.
Early on in the program, Raghu had the opportunity to work as a graduate researcher on a supply chain project for The Data Mine. "Our team worked with a corporate partner in manufacturing to analyze their delivery data, reduce delays, and increase their overall efficiency," he says. "I was able to draw upon my past experience of being in business strategy and operations to help them understand what to look for in the data."
Raghu was also a graduate research assistant in the Dauch Center for the Management of Manufacturing Enterprises (DCMME), where he analyzed the economic effects of active transportation for the Indiana Department of Transportation. "Active transportation is when individuals power themselves, such as riding a bike or running," he says. "We looked at how it is improving people's health and impacting the state's revenue."
Another highlight from Raghu's time at Purdue was participating in the Exploring Business in Peru program, a two-credit management class hosted by the Global Supply Chain Management Initiative (GSCMI) and transportation, logistics, and storage company Tlogistica of Lima, Peru.
The program targets undergraduate and master's students to provide them with the occasion to work on real-life business problems and provide solutions to businesses in Peru. The projects are implemented by the companies involved and are related to the subjects of supply chain, manufacturing and operations.
"This was an experience that I knew I wanted to be a part of as soon as I heard it was happening," Raghu says. "You not only experience the culture of the people, but also get an opportunity to explore business in that country with a focus on supply chain. It's not every day that a graduate student gets the chance to study abroad."
Another positive takeaway was a lesson in cross-cultural communication. "There was a language barrier, but in our previous module we took a course in negotiations where we had to face a cross-cultural negotiation situation," Raghu says. "The skills we developed in that course helped us navigate some of the communication issues we encountered in Peru."
Raghu recently took those and other skills he's developed into a role at Corteva Agriscience as a crop protection supply chain intern. "It's a big industry and something I've not worked on before, so it interested me to be a part of a unique company and business model," he says.
Exceeding Expectations
Mahalakshmi Vasudevan's journey to Purdue began in an Indian village where most women were expected to lead families, not companies. Her upbringing in an orthodox family added to the challenge.
"I was the first woman in my family to attend college, so there was a lot of resistance at first," she says. "I eventually convinced my parents to let me get a bachelor's degree in computer science even though they viewed it as a field for men."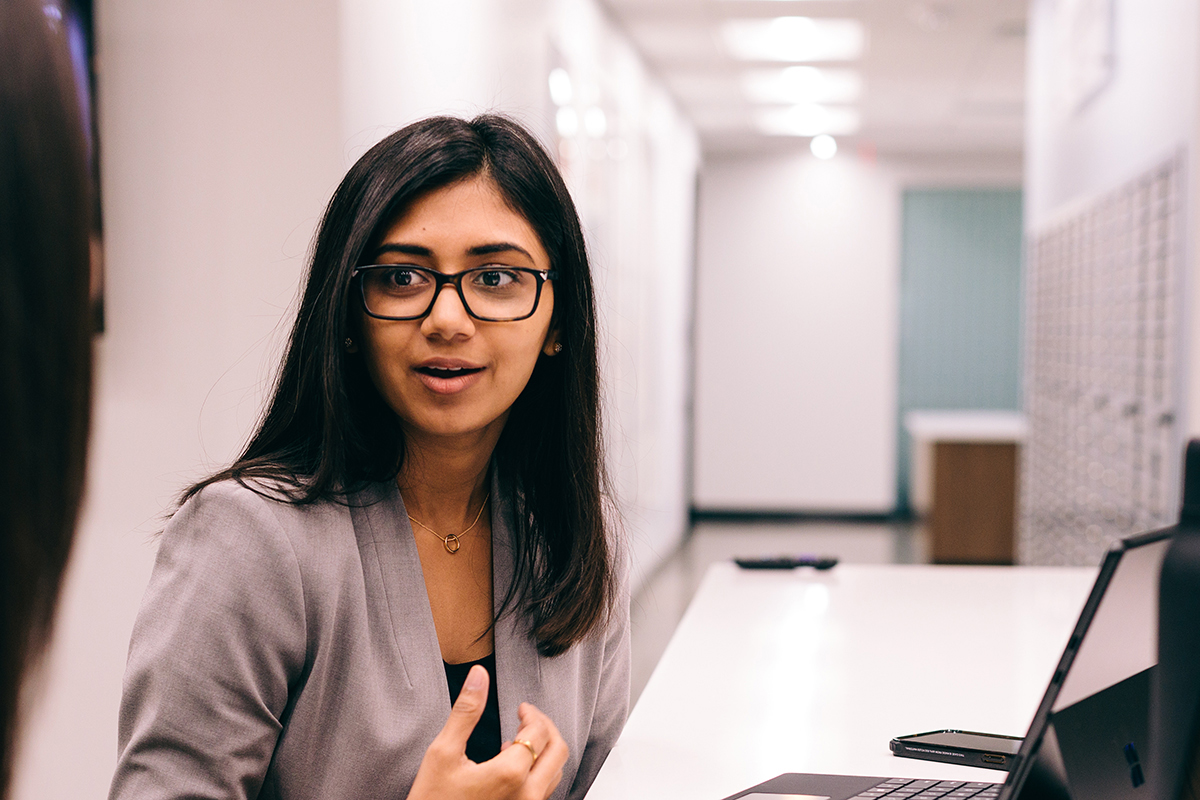 While earning her undergraduate degree from Anna University Chennai, Vasudevan completed a logistics internship at Airlift Cargo System (Madras) Pvt. Ltd., where she learned how to apply technical and managerial concepts in real-time scenarios by analyzing how freight forwarding works. She joined the company full-time upon graduation in an operations support role.
Her next career step was a job as an associate software engineer, followed by a consulting position as an application development analyst at Accenture with Pfizer as her client. "I dealt with a lot of enterprise resource planning challenges," she says. "That's also where I got experience addressing supply chain issues and decided to pursue a master's degree in the field."
Once again, Vasudevan faced an uphill battle. "There weren't a lot of women working in supply chain, so I initially had concerns about the job prospects," she says. "That changed when I learned about Purdue's master's program in Global Supply Chain Management."
Buoyed by the school's diverse student population, transparent program requirements and emphasis on experiential learning, she selected the Krannert Graduate School of Management over eight other universities. "I like to make an informed decision, but I didn't think twice about choosing Purdue," Vasudevan says. "It was the best place to metamorphosize my career from computer science to supply chain."
Once on the West Lafayette campus, Vasudevan embraced the school's project-based learning approach. "I enjoyed being on cross-cultural teams that worked toward a common goal," she says. "That dynamic is important for all students, but particularly international students."
Vasudevan also found mentors through GSCMI and DCMME, where she served as a research assistant. "We were trying to understand the supply, demand and cost analysis of rare earth elements, and how those can be used in electrical vehicles and batteries," she says.
Other influencers included Brian Dineen, the Frederick and Alice Leeds Professor of Management, who taught a course on negotiations, and visiting finance professor Craig Brown, who led a course on financial management. "I would recommend that everyone take those courses," Vasudevan says. "They aren't focused on supply chain, but still provide you with important managerial skills that can help you contribute to any field."
Vasudevan also completed an internship with the school's Marketing and Communications area as an operational specialist. "We were trying to understand the existing business processes and improve them," she says. "It added another layer of skills that I can take into my career."
In summer 2022, Vasudevan joined Amazon as a senior program manager intern as she began her search for a full-time position. "I want to plug myself into an ecosystem where there is complex supply chain structure," she says. "That will be a challenge, but I'm looking forward to it."