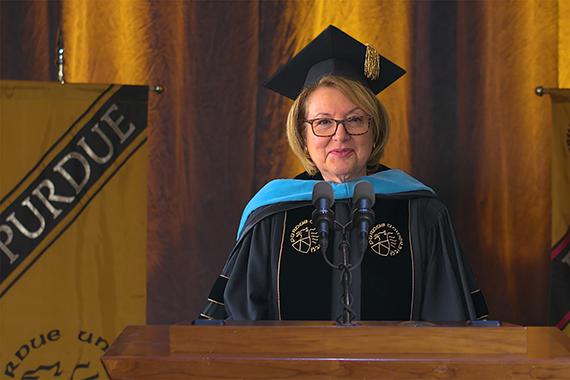 Marjorie Magner, a Krannert alumna and a founding member and partner of Brysam Global Partners, delivered these remarks as the keynote speaker for Purdue's on-demand summer commencement. (Purdue photo)
Making the Leap
Krannert alumna urges grads to stay focused, take the lead
Fall 2020

By Marge Magner
Thank you, President Daniels, for inviting me to speak to the summer graduation Class of 2020. I am truly honored. I also want to thank you, the faculty and administrative staff, for all you have done for the students of Purdue which in ordinary times is extraordinary and so critical for their success. But in recent months, your efforts have been Herculean. And we know the next few months will require great effort as well. Thank you, thank you. We all appreciate you, very much.
Let me begin my remarks with my heartiest congratulations to our graduates, your parents, family and friends joining you today. While I know this isn't exactly the graduation you anticipated, the accommodations to the pandemic we are living through must not in any way diminish the significance of your achievements. Perhaps the only ones who wanted you to walk across the stage to receive your diploma more than you are your parents. They have been envisioning and looking forward to this long before your journey at Purdue began. Their pride in you is absolute, with or without all of the ritual and fanfare we commonly expect of a graduation ceremony.
So, it's OK if you feel disappointed about missing the excitement of the last few months leading up to graduation, being with your classmates, friends and professors, and of course the ceremony itself. But in truth, it is how you deal with the events in life that ultimately determine how successful and satisfied you will be with your life. The Class of 2020 will always be special and recognized for your ability to get through very difficult challenges. But for this moment in time, remember that you are loved, respected, honored and valued by all of us here with you today.
I'd like to take a few minutes to talk with you about some things that I believe are important and that you might keep in mind. Perhaps, someday they will be helpful to you. They are fundamentals, values and leadership.
I have often said to young people who ask me for my thoughts about careers, life and everything else in between that life is not a run-on sentence. It is, in fact, a series of chapters, paragraphs, sentences and thoughts, each with a beginning, middle and end. Recognizing that allows for perspective and focus. Stay on target, stay focused. Don't jump so far ahead that you forget to do what is important now. Remember to deal with each aspect of life. Live it, enjoy it and get the most you can from it, knowing there is more to come and it all fills up a large volume of work.
So how do you deal with the situation you have to face now, or at any point in time in your future? Sometimes there's a lot going on and the uncertainty, in particular, of what might happen next can be overwhelming. For me, it always starts with the fundamentals. I had a colleague, a very proud Hoosier from Evansville. Every year he held a meeting to share the goals and expectations for the new year with his team. The meeting was as much a pep rally as a business meeting because he wanted the team to be prepared and motivated for a successful year. He started every meeting the same way with the words of a famous football coach. This coach began every one of his seasons by holding the object in his hand and saying "Gentlemen, this is a football." That's pretty fundamental but very grounding. The imagery has stayed with me.
What are fundamentals? They are the absolute truths or basics about every situation or problem. The questions you might ask yourself in a new situation are: Why am I here? What is important? What are the facts? Who are the people involved? What is my role and my opportunity? In a business environment, start with the customer, the product, think about the employees and what makes the business successful or not. Get the data. Fundamentals are a good place to start.
Something else that's at the heart of who we are and how we approach challenges and opportunities in good times and bad are our values. Our core values reside within us. You take them with you every place you go and to every situation you find yourself in. They will, if you allow it, light the way for you to navigate your path. In a moment of quiet reflection, which I highly encourage, think about your values. You can always do this when push comes to shove and you are in a crisis, but it saves you a lot of angst if you are prepared to understand your values and how to apply them before you are in a difficult situation.
For me, my core values have always been a framework for making decisions — big decisions, daily decisions, business decisions and life decisions. One thing I know for sure, if I'm having trouble seeing the right path to take, you know, the kind of decision that makes your head and your heart hurt, it's because I'm wrestling with compromising my values and what I know to be right. The thing about right and wrong is it doesn't really change from day to day or when it is convenient. What is right is right, every day. I always describe this as "Do the right thing every time, all the time." You will apply this differently in different situations but what is right, what is consistent with your values shouldn't really change. Your values need to be respected, considered and incorporated into your daily life.
I will definitely not bore you with my values but there is one I would like to share, and that is gratitude. Being here with you is a good example. I'm from Brooklyn, New York. How did I come to be an MSIA from the Krannert School of Management at Purdue? Well, that's a whole story by itself. What is important is that it changed the trajectory of my life. It allowed me to do and achieve things I would never have dreamed. My gratitude is to Purdue for accepting me at a time when there were few women in any business school, let alone a young woman from Brooklyn, N.Y., in West Lafayette, Indiana. My gratitude is sincere and constant. It's why I am so pleased and proud to be a speaker today.
You have received an outstanding education and preparation for life. You will be leaders in your profession, your communities, your religious organizations and in so many other areas of your life. I have found that the best leaders are those who have strong core values that are reflected in respect for others, a willingness to listen, the ability and desire to articulate and share their thought process and their views, and the confidence to know it's not all about them and how great they are, but how great they help others to become. Great leaders provide other people with the opportunity, tools, encouragement and support to achieve at levels beyond their own expectations. When you hear someone say thank you, I didn't know I could do that, there is likely a great leader on the other side of that conversation. Leaders don't tell you how great they are. They don't have to raise their voice to be heard because we want to hear what they have to say. Leaders listen and leaders learn. Even when they are the smartest, they don't try to be seen as the smartest person in the room. They are often the most humble but the most extraordinary people.
It is very clear that we desperately need leaders in our communities, our country and our world. It is also clear that young people, you, have grown up with greater racial, ethnic, sexual orientation and religious diversity in your lives than previous generations. You have lived it here at Purdue, where diversity is a strength of the institution. We need you!
I come from a generation that believed we would accomplish way more than we did. We marched, we protested, but it wasn't enough. We didn't get change and equality embedded in the culture, institutions or systems as it should have been. I'd give us a D+ if i were grading our work based on results. But you can do so much better. You already have. I am heartened by the voices of young people demanding change.
Be leaders. Go into your future with confidence. I know you are prepared. You have had an outstanding education. You have the talent and capacity. I believe you have the heart. And don't forget, you have an army of Purdue alumni ready to help you.
I encourage you to commit yourself to justice and equality and a successful and rewarding life, not just for yourself but for others. Here's how i think about it: Until every person in our great country has the full opportunity to achieve at the highest level of their capability and aspiration, we all have a lot of work to do.
Congratulations to each and every one of you in the amazing Class of 2020. Thank you!
Hail Purdue!