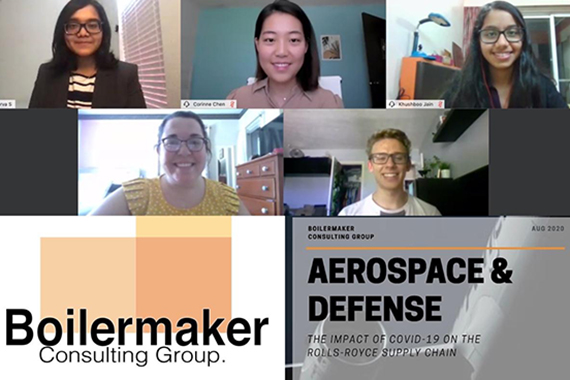 The Boilermaker Consulting Group's current clients include Rolls-Royce, Shell TechWorks, Corteva Agriscience, Eli Lilly and KraftHeinz, among others.
Big Strides
In addition to their project work for the summer 2020 session, BCG held more than 25 student-led workshops on a variety of enrichment topics, along with a focus on soft skills, technical training and industry knowledge. In addition, members had the opportunity to take part in a 30-day professional development challenge to prepare for fall job recruitment by completing networking activities, creating resumes, designing cover letters and editing LinkedIn profiles. They also completed John Wooden leadership training to apply personal scenarios to leadership attributes.
BCG has now been recognized as an official Purdue student organization with the eventual aim of becoming the Purdue Consulting Academy, with academic credit. "The academy will serve a myriad of disciplines across campus, affirming the notion that a student from any background can be successful in a consulting role — a trend being seen across firms in industry," Heiss (left) says.
Meanwhile, the group's detailed work model continues to focus on building consultants' competency in key industry segments, including data analytics, financial analysis, demand management, risk analysis, human capital, strategy and transportation, and planning and procurement. The number of partnerships continues to grow, too, including ongoing projects with Shell TechWorks, Corteva Agriscience, Rolls-Royce, Eli Lilly and KraftHeinz, among others.
"As a consulting organization, we jump at the chance to over-deliver and offer our services for additional scope or future opportunities," Heiss says. "Ask us for competitor research and we'll turn around and say, 'Would you also like a report on emerging trends in the payment processing industry? Ask us for customer interaction and we'll say, 'Would you also like us to analyze these clients and see how we can boost the market penetration of your company?'"
To that end, the group maintains a strict code of ethics that ensures both project management excellence and the proprietary nature of its clients' business operations.  "The BCG is unique in that we have a dedicated team that produces documentation specific to our organization," she says. "We look to replicate the high standard seen in industry."
Shared Experiences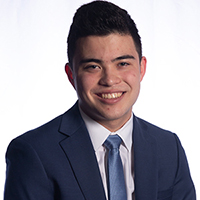 Chris Auches (left), a junior majoring in marketing and finance whose summer internship with Allison Transmission in Indianapolis was lost to the virus, served as leader of the demand management competency segment and also contributed to the finance and planning and procurement teams.
"My main contribution was with the Corteva project," he says. "I was heavily involved in a cost savings analysis, more specifically tier pricing and vendor comparison, and briefly involved with the company's warehouse centralization efforts. I learned a lot of technical tools and functions and news ways to look at data."
In addition, Auches led the demand management team in a scaled sprint for the Rolls-Royce strategy paper, generating three main hypotheses during a week of intense research and problem solving. "One major realization I had in this role is that you don't have to be the best or most knowledgeable to be the leader," he says. "It's your job to help bring the best out in people and help guide ideas and the team."
Another lasting lesson was a leadership workshop Auches organized with Krannert alumnus Roger Stewart, a retired Procter & Gamble vice president and former director of the Krannert Professional Development Center.
"One of the things he said that really stood out and stuck with me was, 'Diversity is getting invited to the dance, inclusion is being asked to dance.' This really hit me because I didn't know there was a difference between the two," Auches says. "After the workshop, I made it my goal to work harder at diversity and inclusion, and to get to know people, their backgrounds, and where they're coming from as individuals."