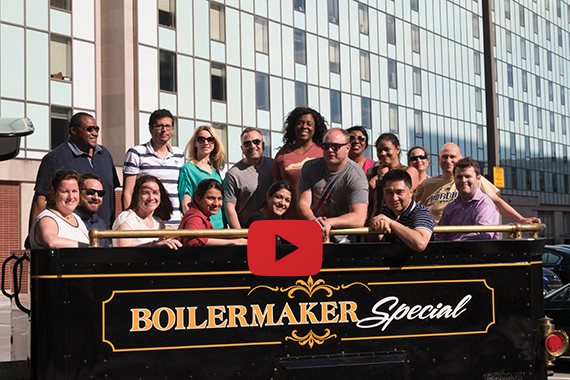 Learn more about Krannert's IMM Global EMBA program from alumnus Alejandro Parilli, who discusses exploring global business practices in a unique program that blends online and in-class learning.
Striking a Balance
Global EMBA program cohort works together to advance gender equity
Fall 2017

By Eric Nelson
When Purdue's Krannert School of Management granted degrees to its first class of executive education master's students in 1985, the vast majority of graduates — like the vast majority of business managers — were male.
Although that inequity has lessened, the progress has been incremental at best.
According to the 2016 Executive MBA Council Membership survey, women continue to be underrepresented in Executive MBA (EMBA) programs around the world, making up only 29.7 percent of cohorts.
"While this is the highest number on record — and that should be celebrated — it is still very low," reports Ivy Exec, a career resource company and recruitment firm for executives.
In contrast, data from the business school accreditation body AACSB International shows that women make up nearly 36 percent of students enrolled in full-time MBA programs.
Though many EMBA programs are now making gender balance a greater priority, only one school in the latest Ivy Exec rankings features a balanced cohort: the IMM Global EMBA Class of 2017 at Purdue's Krannert School.
"Our IMM Class of 2017 more closely mirrors today's workforce," says Aldas Kriauciunas, executive director of Purdue EMBA programs. "A gender makeup of 50 percent female is unprecedented here at Purdue and in programs around the world."
In this issue, we'll introduce four of these trailblazing women — Dara Bennett, Crystal Pittman, Wendy Teare and Gunjan Upadhayay — and explore how they are using their experience in the program not only to advance their careers but also to strike a more equitable balance between the often competing forces of work, life, parenthood, gender roles and learning opportunities.
FAMILY FIRST
Dara Bennett, a regional planning manager for Univar, didn't need to look far when she decided to pursue an MBA. A 2005 Purdue graduate with a BS in industrial engineering, Bennett wanted to further her career, continue learning and developing professionally and contribute more to her company.
"I'm very passionate about being a Boilermaker," Bennett says. "It's a well-known university and I have seen the benefits of having a Purdue engineering degree. I knew I would receive the same benefits with a Krannert EMBA."
It also helped that her "extremely supportive" husband, John Bennett, had graduated from Krannert's EMBA program in 2016. The couple reside in Lockport, Illinois, with their three sons, who range in age from 2 to 6 years.
"The key for me was the flexibility of the program, the fact that it wasn't every weekend, which is when I get to spend the most time with my kids," Bennett says. "That was a big factor for me in my decision. The hybrid approach is not available everywhere. It's unique. I considered the domestic EMBA program, but the opportunity for travel and expanding my career on an international level through the IMM global program was the icing on the cake."