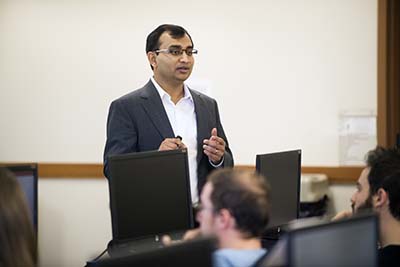 My research seeks to understand and provide insights related to three related issues:
Measuring and quantifying the impact of digital transformations led by the Internet and related technologies; in particular, the Internet's impact on various industries and markets and how the local market structure plays a role in this transformation.


The economic value of digital traces (or digital footprints), especially in driving consumer behavior and improving decision-making.


The impact of Information Technology (IT) on a firm's business and operational practices.
I have partnered with many different companies and government agencies, e.g., Walmart, Cisco, About.com, and Industry Canada, in various capacities.  I love the challenge of finding ways to reap technological dividends in the fast moving Internet world!

Selected Awards & Honors
CICP Faculty Commercialization Award, Purdue University, 2020.

INFORMS ISS Sandy Slaughter Early Career Award, 2018.

The World's Top 40 Business School Professors Under 40, Poets and Quants, 2017.


Jay N. Ross Yong Faculty Scholar Award, Krannert School of Management.


Dean's Award for Outstanding Research Achievement, Haskayne School of Business.


Leadership Fellow, Canadian Centre for Advanced Leadership in Business (CCAL).


Fellow, Center for the Digital Economy (CDE@).


Dean's Award for Outstanding New Scholar, Haskayne School of Business.
Recent Updates
Our work on the implications of preferentially treating more resourceful platform complementors won the Best PhD student paper award at the 2020 Toronto Fintech Conference.

Our work on shared prosperity (or lack thereof) in the sharing economy presented at Platform Symposium and SCECR 2018.


Our work on the competitive dynamics between FinTech revolution (peer-to-peer lending) and local financial institutions (banks, credit unions, etc.) presented at WISE 2016 in Ireland.


Presented our paper on crowd-driven competitive intelligence at 2016 NBER Summer Institute.


Gave a talk at the Modeling & Machine Learning Association, Walmart Technology.


Organized the inaugural Krannert-Walmart Data Dive.


Keynote Speaker, 2015 International Conference on Computer and Information Technology (ICCIT).