Sasha Stefanovic is already known to Boilermaker faithful as a standout member of the Purdue Men's Basketball team. He's also made a name for himself in the classroom, earning a bachelor's degree in finance from the School of Management in 2021.
Today, the four-time Academic All-Big Ten honoree is finishing his pursuit of an online master's degree in human resource management from the school while eyeing a possible career in professional basketball. And those are only two of the giant leaps Stefanovic has made during his time at Purdue, which he describes as his "dream school."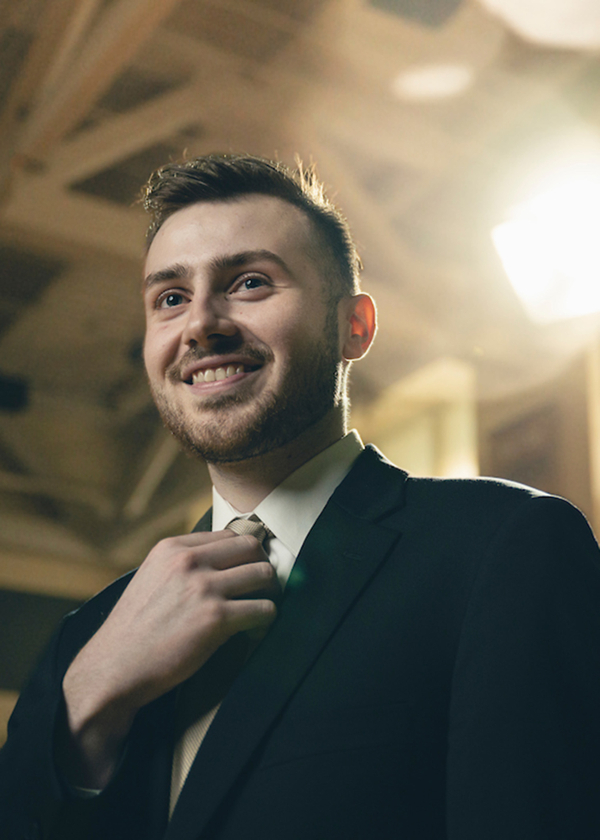 Growing up playing basketball in Crown Point, Indiana, Stefanovic aspired to a collegiate career early on. "Watching guys like E'Twaun Moore and Robbie Hummel made Purdue my first choice, but I wasn't sure it would be possible for me to reach that level," he says. "I had scholarship offers from a lot of other schools, but didn't get an offer from Purdue until near the end of my senior year."
Once on the West Lafayette campus, Stefanovic quickly settled into his role as a student athlete. "I think my upbringing with basketball and involvement in team sports translated well into the academic side of things, especially in the business world where you're in constant communication with your teammates," he says. "It's about working well with people from different backgrounds and making sure that everybody's doing their job."
After redshirting his first year, Stefanovic appeared in all 36 games during the 2018-19 season, showcasing his sharpshooting skills from three-point range. He played his way into the starting lineup by his junior season and stayed there, becoming a fan favorite and team leader.
Meanwhile, Stefanovic managed to successfully balance his dual roles in the classroom and on the court. "I'd be lying if I said it was easy, but I think being a business student helped me understand the importance of time management," he says. "Sometimes you just have to put your head down and do the work."
With a full year of eligibility left after picking up his bachelor's degree, Stefanovic chose to continue his education in Purdue's Online MS in Human Resource Management (MSHRM) program.
"Besides developing as a player, one of the benefits of redshirting as a freshman is the opportunity to work on a graduate degree when you're finished with undergraduate," he says. "I thought about a residential program, but since I'll be moving around a lot, an online degree was the best option for me."
As his time at Purdue comes to an end, Stefanovic continues to display the same pride, grit, determination and teamwork skills in his studies that he showed as a player.
"My parents emigrated from Serbia and Macedonia and worked in steel mills, so that blue-collar ethic was instilled in me early in life," he says. "I think Purdue reflected the same values and characteristics. We've had a lot of group projects as part of my master's program, and everyone is hardworking and focused on doing their best."
Stefanovic is also driven to succeed in his next giant leap, whether that's playing at the professional level or pursuing a career off the court. "I really don't want a job that's specifically in finance or HR," he says. "I'd love to merge basketball and business with a front-office role in a sports organization. That's my ultimate goal."
By Eric Nelson