February, 2022
Cristian Mercado, a December 2021 graduate of Krannert's MS in Human Resources Management (MSHRM) degree program, is proof that moms know best. As a lifelong HR professional, his mother often talked to him about the field and inspired him to pursue a career in it.
"I realized that my perception of corporate America was based in HR theory, as these were normal conversations with my mom," he says. "We interact with people and see the world in very similar ways."
His route to Krannert was atypical. After earning his undergraduate degree in religious studies and theatre from Florida State University, Mercado taught English in Taiwan through the Fulbright Foundation for Scholarly Exchange. He then worked at the PACE Center for Girls as a contracts risk specialist. "I got along well with the HR department and also trained a number of employees," he says. "It was my introduction to HR practice."
When he began looking at programs where he could further his career interests in HR, Krannert quickly stood out because of its academic and professional reputation. "One of the things I told my mom when I first arrived on campus was that I knew Krannert was going to take me where I wanted to go if I just put in the work," Mercado says. "I knew I could trust Purdue and Krannert to do their part. I just had to do mine."
During his time at Krannert, Mercado served as president of the Society for Human Resource Management as well as the lead committee member for the Purdue HR Case Competition and Conference. "Through these two positions, I really got the chance to work on my leadership and management skills," he says.
Case competitions were another source for skill development. "Case competitions are very unique experiences," Mercado says. "Any incoming student should take part in them. You get to speak to actual HR problems. You get real-life experience. You learn about consulting, presentation skills, networking, etc. You also meet other future HR professionals."
Mercado describes the curriculum at Krannert as robust. "We took specialized classes on staffing, compensation, HR analytics, industrial relations, and many more," he says. "Gaining knowledge in each of these areas has helped me to narrow down what aspects of HR I am truly interested in."
Among the faculty, he gives particular credit to Professor Brian Chupp, who teaches the foundational HR course. "He excellently teaches in a way that shows the importance of HR while helping us understand the many hats that an HR professional wears," Mercado says. "I wouldn't be where I am without his guidance."
Mercado's experience with the Krannert Professional Development Center (KPDC) was also key to his success. His KPDC career coach reached out to him in the summer before he even started the program, helping him improve his resume for the immediate job search. That experience also helped him adjust his mindset to the job pursuit. By the second week, he and his classmates were already having coffee chats with potential employers, meet and greets, and one-on-one meetings.
Faculty made the job search a priority, relating multiple times that "you're here to get a job," he says. Before the first module had concluded, Mercado already had an internship and job offer with IBM to begin in its Human Resource Leadership Development Program upon graduation. "That relieved a lot of stress so that I could focus on academics."
Beyond an early job offer, Mercado says his biggest takeaway has been the network of friends and fellow HR professionals he made in the program. "I know that no matter where I am in my career, I have people I can reach out to for help and guidance," he says.
Today, Mercado looks forward to continued learning and development in his new career. "Krannert has molded me into a HR professional who not only focuses on the people, but also the business as a whole," he says. "That business acumen defines me as a professional and will set me up for success."
---
Purdue HR degree adds flexibility and experiential opportunities with greater affordability
January, 2022
WEST LAFAYETTE, Ind. — The residential master's degree offering for human resource management at Purdue University is undergoing a transformation to both increase its experiential opportunities and its accessibility to students.
The Krannert School of Management is reducing the number of credit hours in the Master of Science in Human Resource Management (MSHRM) program, from 48 to 36 hours. More experienced students may complete the degree in two semesters (10 months). Students in the earlier stages of their careers may complete the requirements in three semesters (16 months), including a summer internship and human capital consulting project, where students work in teams to solve a human capital problem for an organization.
Even with this reduction of credit hours, graduates will continue to enter the workforce with a solid foundation in human resource management to help organizations utilize their people and processes to maximize success. A focus on business acumen will remain a key component of the curriculum. The plan of study for both options will include 50% HRM core courses and 50% electives (a mixture of HRM and business acumen courses) so that students will leave as business-savvy HR graduates ready to contribute to, partner with, and lead organizations.
With the reduction in credit hours, the cost of the program will drop to $30,564 for in-state students and $39,950 for out-of-state and international students. Keeping in line with Purdue's emphasis on affordability, the reduced price will make the program more accessible to a larger number of prospective students.
Additionally, to give students more flexibility, they will have access to an array of online courses to complement their in-person learning. All courses will be taught by Krannert faculty and will possess the rigor that prepares graduates for a successful career in the HR field.
In addition to classroom learning, the program refresh will add experiential opportunities that provide students vital extracurricular experiences. The menu of items includes:
individual mentoring from a mid-to-high-level HR alumnus professional
attendance at various HR conferences
preparation for taking the SHRM HR certification exam
participation and leadership opportunities in our student chapter of SHRM
an annual HR case competition and conference, and a bi-annual conference on dismantling bias
micro-internships
independent studies with highly recognized research faculty
"The changes come as a result of feedback from prospective students about the length and cost of the program, and for their desire to have more flexible options," says Greg Beaver, executive director of MBA, professional master's and PhD programs at the Krannert School. "We believe that these changes to the program add tremendous value without sacrificing any of the quality they would expect from our highly ranked MSRHM offering.
"Students will complete the program with the knowledge and experience that companies desire and will be positioned for immediate success in their careers."
The MSHRM program has earned a No. 1 ranking from Best-Masters.com in six of the last eight years and has been ranked No. 6 by College Choice for the last two years.
The new program will begin in the fall of 2022. For more information, visit krannert.purdue.edu/masters/mshrm or e-mail gokrannert@purdue.edu.
---
Krannert School launches two new online master's degree programs
June, 2020
The Master in Human Resource Management (HRM) and Master in Global Supply Chain Management (GSCM) each will be offered in seven-week segments, with students taking one or two classes at a time. Both programs are designed for working professionals with several years of experience.
Both programs are taught by the same faculty who teach similar residential programs. The on-campus Master of Science in HRM program is ranked the No. 1 M.S. in Human Resource Management program in North America by Eduniversal. The residential Master of Science in GSCM program is ranked second globally by the same publication.
The online HRM program features a strong core of human resources content in areas such as talent acquisition, compensation and rewards, and HR analytics. The core is complemented by organizational effectiveness courses in areas including leadership and change management, as well as electives in topics ranging from data visualization and persuasion to strategic management. It is ideal for people looking to make the switch from a non-HR position to an HR career, as well as HR professionals looking to strengthen their credentials or military members seeking to transition to civilian life.
"The online GSCM program offers a core in courses ranging from strategic sourcing and procurement to logistics concepts and models. Electives include predictive analytics, project management, and sustainable operations and quality management. The curriculum also includes experiential learning opportunities to work with real-life supply chain challenges. The program is targeted for professionals seeking to advance their careers through supply chain management knowledge, skills and abilities.
---
Purdue offers combined degree program in human resources
March, 2020
Beginning in fall 2020, the Purdue Polytechnic Institute and Krannert School of Management are teaming to offer a combined degree program, with students earning an undergraduate degree in human resource development (HRD) and a master's degree in human resource management (MSHRM). Students will begin pursuing their master's degree while completing undergraduate work, providing the ability to earn the degrees at reduced cost and in less time. 
Brian Chupp, a clinical assistant professor in Krannert's Organizational Behavior and Human Resources area, serves as academic director of the MSHRM program. He says it prepares graduates for all aspects of management.
"What makes Krannert's MSHRM program unique from other offerings is that our graduates are not only well-versed in human resource management, but also in the business side of the organization," Chupp said. "Our students take five to six MBA courses as well as work in teams with MBA students.
"A common complaint about HR professionals from senior leaders is that even though they understand the 'people,' they don't understand the 'business.' Our graduates are well-prepared to be the business partners the organizations demand."
Several academic connections already exist between Purdue Polytechnic Institute and the Krannert School. The combined degree may help open new doors to further academic collaborations.
---
Krannert's MSHRM Program hosts 9th Annual HR Case Competition and Conference
November, 2019
On Thursday, November 14, the Krannert School of Management's MSHRM program hosted its 9th annual HR Case Competition. Forty seven students from ten universities participated in two divisions. The Undergraduate division included: BYU, IUPUI, Marian University, Purdue University, and Universidad Panamericana. The Graduate division included: Purdue University, Texas A&M, University of Minnesota, University of South Carolina, and Villanova University.
---
HR Manager Is One of the Most Promising Careers
By Roy Maurer September 6, 2019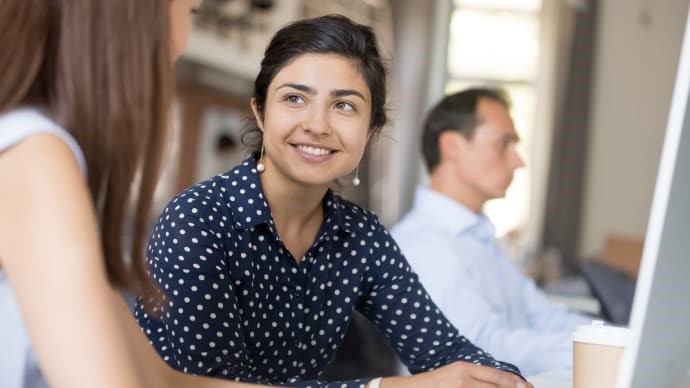 The job prospects for HR managers over the next decade are looking strong.

HR manager ranked 35th out of 800 occupations in the U.S., based on new employment-projection data released by the Bureau of Labor Statistics (BLS) and scored by The Wall Street Journal.  

The Journal's ranking is based on the highest average tallies of both projected annual job openings through 2028 and median salaries for 2018.

HR is one of the fastest-growing fields in the United States. Employment of human resource managers is projected to grow 7 percent by 2028, faster than the average for all occupations (5.2 percent). That translates to about 14,400 projected job openings annually.

"There is a growing demand for HR," said Kim Garstein, senior vice president at staffing and recruitment firm Robert Half in Los Angeles. "The HR function is becoming recognized as a true partnership with company leadership to help organizations grow and retain staff. The field is constantly progressing and becoming a more complex job function. Given these new projections, savvy firms are looking more strategically at hiring. Not just replacing open seats but evaluating evolving roles and skill sets to hire people that will move their company forward."

Strategy over Administration

Laura Mazzullo, the owner of East Side Staffing, a New York City-based recruitment firm focused on the placement of HR professionals, said there has been a trend toward hiring HR business partners. "These are people who historically may have been considered HR managers, but the role has evolved to be more strategic and advisory," she said. "The BLS description for HR manager is antiquated with its emphasis on coordinating administrative functions. The job descriptions I'm seeing for these individuals—now called HR business partners—are asking for more advisory and consultative skills to advise leaders on people-centric approaches to HR."

Mazzullo said the BLS forecast is a good sign for the profession. "It's exciting. I think it means that leadership teams are investing in HR. In the past, HR has typically been understaffed and overworked. And when you're bogged down in administrative tasks, you can't be strategic."   

The BLS concluded that although job opportunities are expected to vary with the staffing needs of individual companies, strong competition can be expected for most HR manager positions.

Mazzullo said there's a shortage of "solid, experienced" people in HR business partner roles because it's still a relatively new concept. "Companies will have to hire more traditional HR managers and groom them into HR business partners," she said.

There are currently about 152,000 HR managers in the United States, according to BLS data. The largest employers of HR managers are in the professional and business sector (14 percent), followed by scientific and technical services (14 percent), manufacturing (12 percent), government (9 percent) and health care (9 percent).

"We are seeing increased growth for HR at small to midsized firms," Garstein said. "Especially as firms approach employing 50 workers, they need to hire a dedicated HR manager to their teams."

Rising Pay, Rising Value

Another compelling reason to consider an HR career path is that the median annual manager's salary is $113,300 per year. The lowest 10 percent earned less than $66,870, and the highest 10 percent earned more than $201,380, according to the BLS.

"Salary information can vary by location, tenure and industry," Garstein said. "Much depends on the local demand for each role and availability of talent in the market. Company size can also be a factor—small companies typically hire standalone HR professionals, which are not only hard to staff, but seek a higher salary because they don't have as much internal support."

Mazzullo said the median pay for HR managers in New York City is typically higher than the BLS' national median. "It's probably closer to a median of $150,000 around here," she said. "I'm proud of HR. For a long time, managers were compensated under $100,000. It's a six-figure profession now, which is a very positive sign."

According to trends in base pay tracked by Glassdoor, wage growth for human resources managers is currently up 6.7 percent since 2015, while pay for recruiters has seen a steady rise of 12.6 percent during that time.

A requirement for certifications or specialized training can also impact salary, Garstein said.

Candidates with certification or a master's degree—particularly those with a concentration in human resources management—should have the best job prospects, according to the BLS.

"Although certification is voluntary, it can show professional expertise and credibility, and it may enhance advancement opportunities," the agency said. The Society for Human Resource Management offers the SHRM-CP and SHRM-SCP certifications.

Garstein agreed, adding that "sometimes [certification] is a requirement, but in many cases, it's a nice-to-have. That being said, even if it's listed as a nice-to-have on a job description, we are seeing a lot of businesses holding off on offers to find a candidate with certifications or additional training."

Good Time to Be in HR

While HR manager was listed the highest among HR professional roles in the rankings, HR specialist (44th)—including talent acquisition and management roles—was not far behind, followed by specialists working in training and development (134th), labor relations (167th) and compensation and benefits (248th).

"Depending on company size, many businesses may look for HR candidates who have specialized experience," Garstein said. "Some areas of expertise that are sought after include exposure to payroll, familiarization with labor laws and experience in recruiting strategy. Candidates who hold these specialized skills can be hard to find."

On the other hand, HR assistant ranked 329th in the occupational forecast, showing a -4 percent growth rate over the next decade.

---
A Conversation about the MS HRM Program
January, 2019
We sat down the Krannert's Academic Director for the HR program, Brian Chupp, as well as program manager Jill Lynn and lead recruiter Heather Goodwin to discuss what you can do with an MSHRM degree and why it matters.
---
June, 2017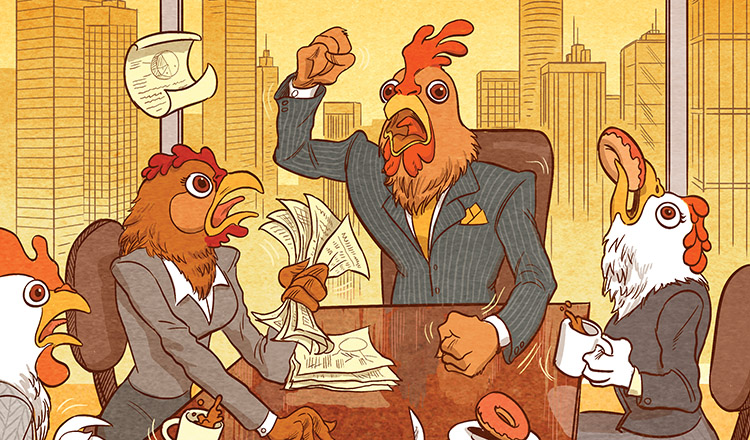 Geneticist's 'superchicken' research takes flight as metaphor for effective team management 
William Muir (PhD A'77) gets a kick out of the attention, belated as it is.
More than 20 years after he published the findings of a fairly simple research project on egg production among two groups of hens, Muir has achieved a level of fame with an unexpected audience: those who study the productivity of humans at work. 
He's enjoying it, but that doesn't make it any less surprising. "Human people," he says with a chuckle, "don't usually read animal literature." 
It's a simple way of getting to the separation between academic branches, a line that Muir, a professor of animal sciences who specializes in breeding and genetics, has crossed in recent years through no effort of his own. It all goes back to that humble experiment, when Muir filled each of two cages with nine hens. The first cage housed what was essentially an "average" group of hens that had been collectively productive egg layers, while the other was loaded with the most prolific individual hens from different cages. And then he waited.
The smart money at the time was on the second group: If each of the individual hens in one cage was a prolific egg layer, it figured that their offspring would follow suit; that, generation by generation, their production would increase exponentially. It only took a few generations to disprove that conventional wisdom — and prove Muir's hunch correct. Before long, six of the nine hens in the genetically superior group were dead, and the three remaining hens were pecked bare. This was "survival of the fittest" in action, Darwinian evolution at its most brutal — and, for a breeder relying on those eggs, a huge loss.
In the other cage, the nine "average" hens were getting along just fine, and their egg production increased with every generation. The lesson — that social dynamics might negate genetic advantages when so many hens share a cage — was obvious, and the findings, published in 1996 in the journal Poultry Science, led to an industry-wide change in breeding practices. Muir, mindful both of helping breeders and of the animal welfare benefits, knew he had something to be proud of.
It was a 2015 TED Talk by the management expert Margaret Heffernan that took Muir's findings out of the henhouse and into the mainstream. Heffernan appears to be the first person outside of academia to try to apply the lessons of Muir's research directly to the human workplace. 
"For the past 50 years, we've run most organizations along the 'superchicken' model," Heffernan said in her TED Talk. "We've thought that success is achieved by picking the superstars … and giving them all the resources and all the power. And the result has been just the same as in William Muir's experiment: aggression, dysfunction, and waste."
More than 2 million people have since watched Heffernan's talk online, and dozens of articles have been written in business publications elaborating on how the behavior of hens in a cage can inform the best way to get people to work together. It's hard to argue with the logic, and Muir believes the analogy holds up — with a few conditions. For starters, in coining the phrase that has helped make the research famous, Heffernan referred to the wrong group of hens. "It's a misinterpretation that the individual chicken is super — like Superman — when in fact it's the 'super breed' where everyone gets along," Muir says.
Perhaps more important is an understanding of the limitations inherent in the comparison. Human beings have the benefit of social evolution, he says, allowing us to pass on concepts of how we should interact. "Our culture evolves by learning," Muir says. "That's where I constantly differentiate with people I talk to: I can only talk about this in the aspect of genetics. If we're talking about animal breeding, I'm happy to talk about it. But I don't think people should be going very far outside their area of expertise."
With that in mind, we asked Purdue experts on human productivity to draw what conclusions they could: about how an emphasis on competitiveness over teamwork can be counterproductive — if not outright destructive — to group collaboration, productivity, and innovation. Their impressions echo what that second group of hens found out the hard way.
Dominant Achievers, Diminishing Returns
An assistant professor in the Krannert School of Management, Raquel Asencio Hodge sums up her research focus thusly: "I study teamwork." She says the outcome of Muir's experiment speaks to what has become conventional wisdom among those who study management issues — even if few formal studies have been dedicated to confirming it. She cites a 2010 study published in the journal Organization Science that covered similar ground, finding that "if you put too many really high-status people into a team, it looks like it's going to be really successful, but in fact there are diminishing returns."
A recent NASA-funded research project on the challenges faced by a manned mission to Mars sheds more light on the issue. In her work on the project, Asencio interviewed those working on the mission at NASA and at the European Space Agency. Of a potential Mars crew — astronauts and scientists selected from a highly competitive process — she says, "This is not just any kind of team. These are the best and brightest in their fields, going on a very long mission on a very small ship. And they have to work together."
For astronauts living and working in tight quarters on a years-long mission, putting together the right team could be a matter of life and death. For the rest of us, the stakes probably aren't quite as high. Nonetheless, says Brian Chupp, there is a growing awareness among managers that the makeup of a collaborative business team is one they have to take seriously. A lecturer in the Krannert School of Management, Chupp spent more than 20 years as a human resource manager and consultant, including stints with a pair of Fortune 500 companies. He tells his students what he's told CEOs and managers for years: "You've got to have high performers, but recognize that performance means different things to different people. Not everyone has the same strengths."
In Muir's experiment, each hen had the same task: Lay as many eggs as you can. On human work teams, things are rarely so simple. Finding the right balance on any team means recognizing the strengths of its members. Chupp cites an example from his time at Home Depot, when a management change led to an influx of Type-A personalities. Initially, that decision paid off for the company, but Chupp says it eventually required an adjustment. "Taking a step back and looking at the bigger picture, it was clear that a lot of the work that was done to make these leaders successful was done by people who wouldn't themselves be considered Type A."
For Chupp, it was a reminder of the value of role players — the ones no team can win without.
Role Players Need Stars — and Vice Versa
In 2009, a much-discussed cover story in The New York Times Magazine explained how a move toward advanced analysis of player statistics had the potential to revolutionize basketball, leading to what its headline dubbed "the no-stats all-star." The idea, says Asencio, was a player whose individual statistics didn't imply much of an impact, "but when he's on the court, his teammates simply do better. And when he's off the court, they do worse."
Chupp calls them "superstar role players," those whose individual productivity — whether in number of projects completed or sales quotas surpassed — doesn't impress, but who nonetheless make invaluable contributions to their team. The challenge is one that Muir's test of egg production wasn't designed to answer: How do you measure the contributions of team members whose individual production doesn't stand out?
Asencio says her advice to managers is not to get caught up in bringing in the "smartest" candidate for every position. "It's not always about that," she says. Instead, she recommends looking for complementary traits: conscientiousness, agreeableness, team members who "seek communion and want to be liked." Blended with higher achievers, those people tend to contribute to a smoother social dynamic, minimizing the risk of (figurative) henpecking that can be disastrous to a team's overall goals.
Chupp recalls a story from his time with another company, which had just opened a state-of-the-art distribution center. "We'd brought in a lot of high-intensity, Type-A personalities, and it was working great," he says. "Then around the holidays, we started bringing in hourly associates for extra help. And we decided to do some team building." The project: A Christmas-tree decorating contest pitting the various departments against each other. Managers were excited to see how the new team members would embrace the chance to outdo each other. Instead, he says, "It fell flat on its face. The people out on the floor weren't competitive like the managers were."
For Chupp, it served to reinforce the importance of understanding motivation: While the stars on a given team tend to thrive on competition and crave external credit, those role players are generally happy to stay out of the spotlight, content with knowing they've quietly contributed to team success. Hens don't have such noble thoughts, of course, but in an instinctive willingness to coexist, those in the healthy, productive, star-free group provide perhaps the best lesson for humans facing productivity challenges of our own.
Collaboration is Key
In a 2016 interview with the Evolution Institute, Muir elaborated on the idea of multi-level selection in his experiment — that consciously minimizing competition within the cage ultimately led to more overall production from the group. "This is exactly what is meant by 'the whole is greater than the sum of the parts,'" Muir said. "As a group, we got out more than we put in."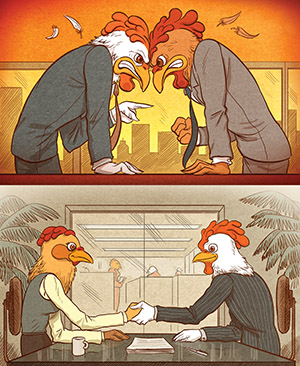 In applying the lessons to the human workplace, this is what resonates with Asencio. "That's where having the best of the best on a single team is problematic, because collaboration suffers," she says. "That's the big takeaway I get from this study — that the whole is really greater than sum of its parts."
"That's where having the best of the best on a single team is problematic, because collaboration suffers. That's the big takeaway I get from this study — that the whole is really greater than sum of its parts."
Reflecting on it now, Muir remains pleasantly surprised to see his work embraced by experts in human management and organizational behavior. About once a month, he says, he'll hear from researchers asking to see the original data, hoping to dig deeper on his interpretations, and curious whether he thinks that TED Talk got it right. He says the most unexpected inquiry came from a group of US military consultants, wondering if the superchicken model might be useful in training and organizing in the armed forces. (He argued that it might not be a good fit in an organization built around a strict chain of command, but could have applications within smaller teams.)
But for a researcher who has spent most of his career working with poultry, the knowledge that his work might help his fellow humans be happier and more productive at work has been its own reward.
 "You hope to have a lasting impact, but you never know if you're going to. So it's been absolutely wonderful that this one concept has found its way not only into animal breeding, but also human anthropology," he says. "I never thought that my research would actually ever find an application in human literature. I'm very gratified that they've seen it." 
---
Management Versus Leadership: A Different Perspective

May 1st, 2017
During two decades of HR experience, I have read numerous articles on the differences between leadership and management as well as how particular job titles needed to have more or less of each.
Instead of providing another article on the similarities and differences between management and leadership, this article will take a different perspective. Instead of treating them as separate, organizations should approach them as complementary and symbiotic concepts.
---
How Krannert doubled Weekend MBA enrollment while cutting class time
April 4th, 2017
"One of the things I've found is that by moving some of the discussion online to message boards, you actually get a deeper level of conversation," says Brian Chupp, professor of Organizational Behavior and Human Resource Management. "In the classroom, you might have just 25 percent of the class dominate the conversation, with the rest of the class just content to sit and listen. But online, where everybody has to participate, I've found some of the most insightful comments come from someone who'll rarely raise their hand in class."
Chupp, who has taught both fully online and hybrid courses for other colleges at Purdue, says the beauty of Krannert's hybrid program is that it simulates a real-world working environment, where students have to learn how to interact with each other in person and online, "a critical skill."
---
NEW!! Krannert is now offering a HRM Minor
March 27th, 2017

If you are a Purdue student, including Krannert, you may choose to minor in Human Resource Management (HRM). The one exception is that students cannot major in General Management and minor in Human Resources Management. The HRM Minor requires you to successfully complete 15 credit hours from the HRM Minor plan of study. You would graduate with your bachelor's degree in your chosen major with a minor in HRM.
---
Spring 2017 Tippecanoe Area Human Resources Association Scholarship Awards
March 2nd, 2017
Who: Undergrad students pursuing an HR related degree and graduate students pursuing a Master's degree in HRD or an MBA with a concentration in HR.
---