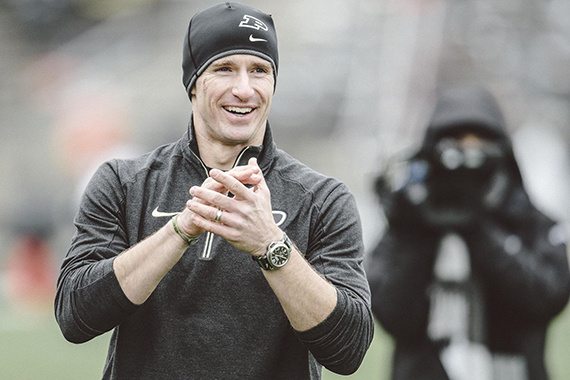 FACEBOOK VIDEO: Purdue alumnus and New Orleans Saints QB Drew Brees talks about the lessons in teamwork he learned as an industrial management student at the Krannert School. (Photo by Charles Jischke)
Passing It Forward
AACSB honors Purdue legend's off-field impact
Spring 2019

Krannert School of Management
Every Boilermaker is aware of the prowess Drew Brees possesses on the football field. Now, the Purdue graduate is being honored for his activities away from football.
Brees is one of 33 business school graduates honored by AACSB International – the world's largest business education alliance — as the 2019 Class of Influential Leaders. The annual challenge recognizes notable alumni from AACSB-accredited schools whose inspiring work serves as a model for the next generation of business leaders.
Brees is a 2001 graduate of Purdue University's Krannert School of Management. In addition to setting numerous NFL records with the New Orleans Saints, he founded the Brees Dream Foundation, which has contributed almost $25 million to improve the quality of life for people around the world since its inception in 2003.
"I definitely feel that a degree from the Krannert School of Management has made me a better football player and a better leader," said Brees in a November 2018 video interview with Purdue Athletics. "There are many parallels and correlations between being a quarterback and being a manager in business. I knew going into every class that I would be challenged.
"One of the great things about the School of Management is that we were often made to work in teams. That brought out the best in everybody and made you want to contribute and not let your teammates down. That's absolutely what being part of an NFL football team and part of a community is all about — relying on one another, trusting one another, and caring for one another in order to get the best out of everyone."
One example of Brees' efforts to help his community is his support of the Team Gleason House in New Orleans, named for Steve Gleason, a former Saints teammate who was diagnosed with amyotrophic lateral sclerosis (ALS). The house is equipped with the latest computer-operated technologies to allow individuals with ALS the highest independence possible. Brees' foundation also helped fund improvements to Joe Brown Park, transforming it into a world-class regional park to enable children and families to be healthy and active.
Brees' reach extends beyond New Orleans. In 2011, he was appointed an ambassador for the World Food Programme, a United Nations branch and the world's largest humanitarian organization to fight against hunger. He supports high schools around the nation through the Drew Brees Passing Academy and 7-on-7 Tournament, and his work with Convoy of Hope has helped support families that were adversely affected by Hurricane Sandy.
Brees was named the Sports Illustrated Sportsman of the Year in 2010 and was described as "an athlete as adored and appreciate as any in an American city today." He also has become a successful entrepreneur; in 2018, he came in at No. 17 in the Forbes list of the world's highest-paid athletes.
"AACSB is honored to recognize Drew Brees and congratulates Purdue University for its role in preparing alumni who are leading examples of business education as a force for good in the world," said Thomas R. Robinson, president and CEO of AACSB. "The diversity of backgrounds, industries and career paths of the 2019 Class of Influential Leaders demonstrates that AACSB-accredited schools are preparing graduates to succeed wherever their passions may take them."
Now in its fourth year, the Influential Leaders challenge has recognized almost 200 business school graduates for creating lasting impact in business and society. All honorees have earned an undergraduate, graduate or doctoral degree from one of the more than 800 AACSB-accredited business schools worldwide. Brees is the fourth Krannert graduate to be recognized, joining Beth Brooke-Marciniak (2015), Carolyn Woo (2015) and Shawn Taylor (2016).
By Tim Newton