OUTGOING PURCE ASSOCIATE DIRECTOR BROUGHT PEOPLE TOGETHER
In a distinguished teaching and research career marked by her expertise in smart grid economics, energy regulation and market design, Dr. Lynne Kiesling has also made her mark as an inspirational organizer.
"When Lynne first arrived at Purdue, she knew little about PURCE's structure," said Krannert Professor of Economics Dr. John Umbeck, co-founder and first director of PURCE. "However, in a very short time she had contacted and met with faculty, staff, and donors, and brought them together."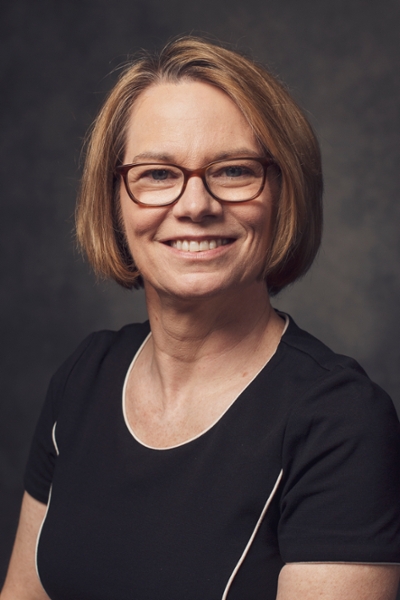 Kiesling deftly organized people to create new courses for students and events for faculty and the public to learn more about PURCE's mission, Umbeck said. 
"She had the people skills to attract talented people and the organizational skills to bring them together to create a final product." 
Kiesling departed PURCE in July 2019 after serving as the center's associate director and a Krannert Visiting Associate Professor for two years. She taught Energy Economics (undergraduate and master's), History of Economic Thought (undergraduate), a freshman seminar called The Marketplace of Ideas, and the Economics Scholars Program, a PURCE-supported program Kiesling launched.
The Economic Scholars Program is an intimate workshop of 12 students from different majors across campus who get an immersive experience with important economic writings. The students complete a reading assignment each week and then participate in discussions.
"This type of small-group student engagement and learning is Lynne's greatest strength," said Associate Professor of Economics and Kozuch Director of the Purdue University Research Center in Economics, Dr. Kevin Mumford. "It will be difficult for us to compensate for Lynne's departure."
Kiesling said she enjoyed teaching and interacting with students ranging from freshman to master's.
"We had so many thoughtful and interesting discussions, and I appreciate the curiosity and the interest and ability to connect economic ideas to other fields of inquiry and to real-world phenomena that I encountered at Purdue," she said.
Kiesling will also miss the collegiality of Krannert's Economics department.
"There's a sense of shared purpose and of the importance and meaning of the educational, research, and outreach work that everyone at Krannert contributes to."
Her duties at PURCE included developing and implementing a strategy for communicating the center's policy-relevant research to audiences outside of academia. Under her guidance, PURCE launched the annual Economic Ideas Forum series, a symposia that highlights faculty research and engages a local audience.
"I appreciated the sense of community and the support that Krannert and PURCE have in the area and with Purdue alumni, and enjoyed working with PURCE supporters to develop PURCE and its new programs," she said.
Kiesling is now the Co-Director of the Institute for Regulatory Law & Economics (IRLE), in the Department of Engineering & Public Policy at Carnegie Mellon University.
Founded in 2004, the IRLE focuses on providing education and outreach to state public utility regulators who must regulate electric utilities in a time of dynamic technological change. The institute provides a workshop on important foundational principles of law and economics to enable regulators to make more informed policy decisions.
"I am sad to leave PURCE and Purdue because I have really enjoyed my time here, and I think IRLE's mission to communicate economic ideas to practitioners has a lot in common with PURCE's mission," Kiesling said. "I hope that we will continue to be fellow travelers in this shared broader enterprise."