Management Information Systems (MIS) is the art and science of gathering, collecting, storing, analyzing, and disseminating of information for managerial decision making. The emphasis is on improving business processes through information technology. The MIS faculty conduct research and teach courses to further expand our understanding of management information systems.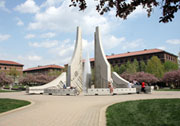 The current research emphasis of the MIS group at Purdue's Mitchell E. Daniels, Jr. School of Business is on database systems, computer networks, information security and privacy, human computer interaction, knowledge management, evolutionary computation, intelligent systems, and e-commerce particularly, in the areas of infrastructure design, information goods, bundling, and pricing. Our MIS group also encourages and supports cross-disciplinary research as these areas relate to our MIS mission and changing research challenges and opportunities.
The career opportunities in MIS and Information Technology (IT) are once again growing. The MIS faculty continue to meet regularly with recruiters to advocate for students in our undergraduate and masters programs.